RAF Search and Rescue crewman in charity cycle ride
An RAF Search and Rescue crewman has begun a 1,800-mile (2,900km) circumnavigation of the UK's six RAF Search and Rescue bases to raise money for charity.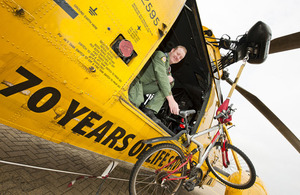 Sergeant Lee Clark is based with the RAF's 22 Squadron at Wattisham in Suffolk, where he began his charity cycle ride this week. The route will take him anti-clockwise around the UK; calling in at Leconfield, Boulmer, Lossiemouth, Valley and Chivenor, before finishing back at Wattisham.
Raising money for two charities - Combat Stress and a local Suffolk-based charity, St Nicholas Hospice in Bury St Edmunds - Sergeant Clark has given himself three weeks to complete the solo and unsupported attempt:
A couple of years ago I did a tour on a Medical Emergency Response Team in Afghanistan and I have seen the injuries that guys were coming home with," he said.
You only have to look at the documentaries on Afghanistan and Iraq to realise that a lot more people have seen some horrific incidents on the front line which, I feel, will lead to a lot of people needing help in the future, which is why I chose [to support] Combat Stress.
I also wanted to try and get the local community involved, so I chose the St Nicholas Hospice in particular because it does a fantastic job, not just for people with terminal illnesses, but also the families.
My sister has terminal cancer, and even though she lives in North Wales, St Nicholas Hospice are more than prepared to offer help and assistance to me because of what she is going through.
Published 30 September 2011