RAF SAR team rescues flood victims in Wales
An RAF Search and Rescue (SAR) crew has assisted lifeboat volunteers to rescue hundreds from floodwaters in Wales after two months' rain fell in just one day.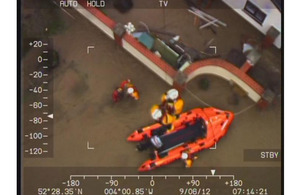 On Saturday, 9 June, holidaymakers at three campsites near Aberystwyth awoke to find their caravans surrounded by water as fast-moving torrents destroyed property and threatened lives.
At 0230hrs, the River Lery had burst its banks, causing what one witness described as a 'tidal wave' to hit unsuspecting campers and residents in the villages of Talybont and Dol-y-bont, and spreading to Llandre and Penrhyncoch.
Following emergency calls, Dyffd-Powys Police contacted the UK Aeronautical Rescue Co-ordination Centre at RAF Kinloss at 0430hrs, requesting RAF SAR helicopter assistance to aid the rescue efforts already underway.
The duty crew of RAF Sea King callsign 'Rescue 122', from C Flight, 22 Squadron, based at RAF Valley on Anglesey, was tasked to attend the incident.
After reviewing the meteorological forecasts and calculating the required fuel load, the crew took off from their Anglesey base at 0518hrs, flying to the flooded area to commence a search and rescue operation.
Rescue 122 arrived on scene at 0551hrs, and almost immediately received their first tasking from the on-site Coast Guard co-ordinator. They were advised that two people had been reported trapped in a caravan after it had been hit by a wall of floodwater.
The caravan was swiftly identified, and RAF SAR winchman Sergeant Dickie Myers was lowered by winch cable. He found and retrieved both of the caravan's occupants, by winch, to the Sea King.
The second tasking was to a group of three people who had sought refuge on the flatbed of a lorry.
All three people were winched aboard the Sea King, once again by Sergeant Myers, assisted by the skilful precision of the Sea King's radar/winch operator, Flight Sergeant Livingston.
Rescue 122's final tasking was to extract four members of a Borth lifeboat team after their own inflatable boat had become caught up in floodwater debris which had been carried downstream as they searched for trapped persons.
Flight Lieutenant Al Conner, co-pilot of Rescue 122, said:
We were forced to operate within an extremely small space, with highly-limited manoeuvring room at all three search areas.
A second RAF Sea King, callsign Rescue 169, from our sister unit at A Flight, based at Chivenor in North Devon, was on standby to take over from us. Fortunately, the services of this second Sea King were not required and we were stood down by the on-scene co-ordinator shortly after completing our third rescue.
Published 11 June 2012