RAF SAR team exercises over York Minster
York Minster provided the venue for a recent RAF Search and Rescue (SAR) simulated casualty evacuation exercise.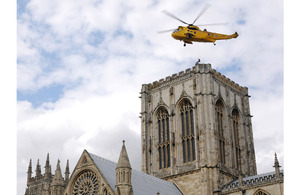 As RAF Search and Rescue continues to deal with more urban rescue scenarios, personnel from E Flight, 202 Squadron, were asked to reacquaint themselves with the problem of plucking potential casualties from the public access cage on top of the central tower of York Minster.
As with many structures, the problem of removing casualties through narrow passages can only be resolved by airlifting, and constant training ensures this kind of scenario can be dealt with by our RAF Search And Rescue Flights.
Commanding Officer of E Flight at Leconfield, Squadron Leader Stu Gwinnutt, commented:
The RAF SAR Force specialises in extracting people from near inextricable situations so when Rebecca Thompson, the Superintendent of Works at York Minster, enquired as to whether we'd be interested in carrying out a training exercise to assess the obstacles at the top of the tower we jumped at the chance.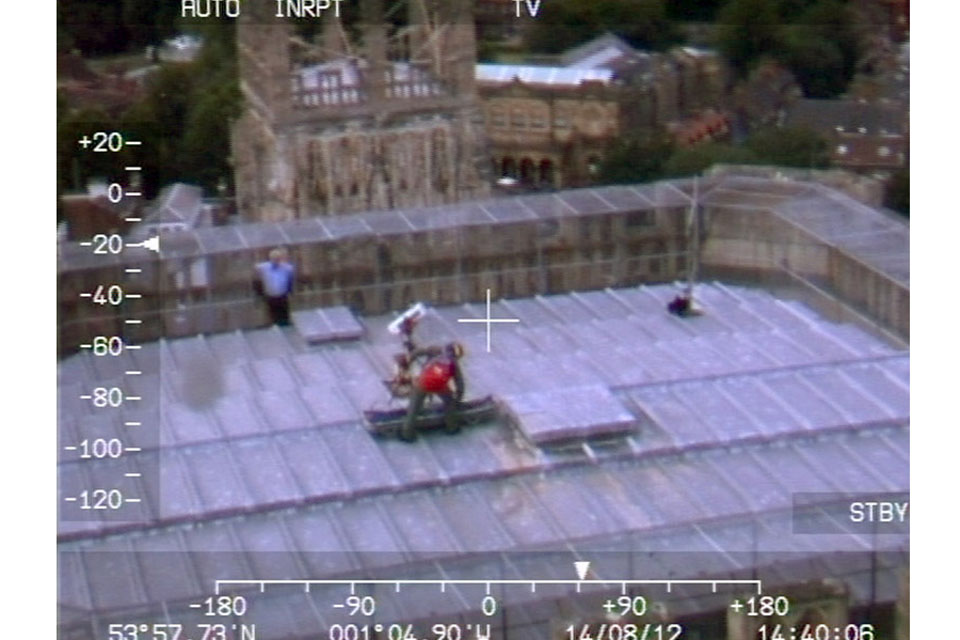 "The winching exercise itself was fairly uneventful but for us to operate in the centre of York is somewhat unusual.
202 Squadron has been involved in similar rescues in the past, notably at Durham Cathedral, when a member of the public collapsed at the top of their tower and our capability proved to be crucial in getting the casualty to definitive care as soon as possible, without a very long carry down a spiral staircase.
York Minster is in a constant process of repair and renewal with over 50 craftsman and stone masons.
Superintendent Rebecca Thompson, who is responsible for the Minster's craftspeople, said:
I'm very pleased with the exercise; it showed the true professionalism of the RAF Search and Rescue team and gives reassurance that in the case of emergency we have the best response available.
Published 17 August 2012