RAF reservists celebrate Freedom of Ashfield
RAF reservists have marched through the Nottinghamshire town of Hucknall with swords drawn, bayonets fixed, drums beating and Colours flying for the first time in more than 80 years.
At the invitation of Ashfield District Council, 504 (County of Nottingham) Squadron Royal Auxiliary Air Force (RAuxAF) was presented with the 'Freedom of the District of Ashfield'.
Formed at RAF Hucknall Airfield in 1928 as a Special Reserve Squadron, the Squadron became part of the RAuxAF in 1936.
Reservist aircrew flew Hurricane aircraft in the Battle of Britain, before flying squadron were disbanded in the 1950s. In 2000, the name was to be given to 504 (County of Nottingham) Squadron.
Senior Aircraftman (SAC) Mark Bottomley joined the Squadron two years ago. He said:
I joined as I felt I needed to give something back. I'll go on operations whenever they send me – I didn't join the Armed Forces when I was younger so the RAF Reserves offered me a second chance.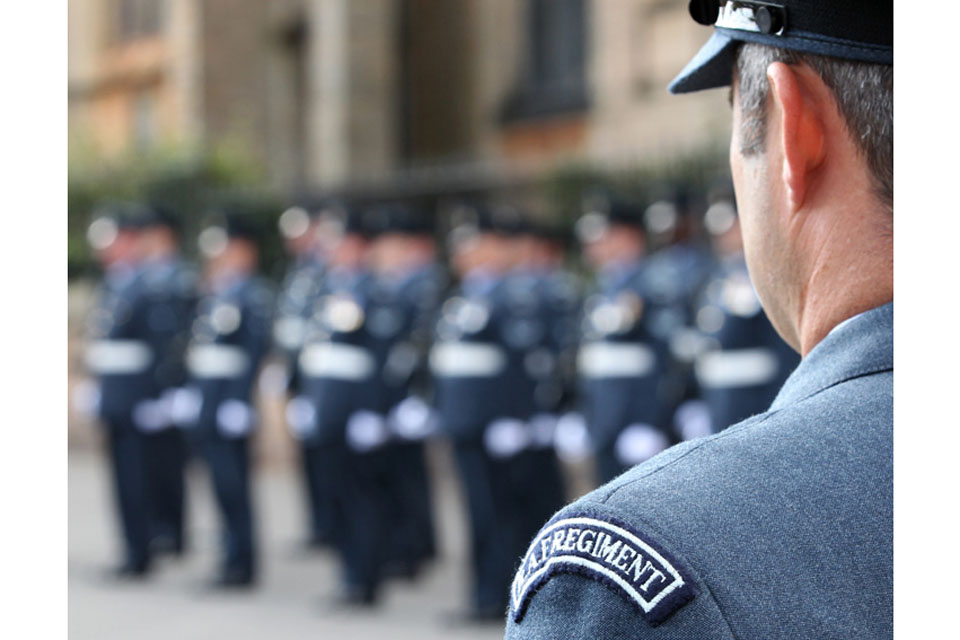 "In my day job am a fireman with Nottinghamshire Fire and Rescue Service; the discipline, training and rank structure is very similar – we just use different kit! My three kids are aged two, eight and 11. The older one understands and is a bit worried, but the other two think my second job is great."
Corporal Gareth Fisher has been with the Squadron for nine years, and was a mortgage broker before becoming a full time reservist instructor. He has deployed on operations three times, to Iraq and Afghanistan.
I came home from a six month tour in Afghanistan last year – I was a vehicle commander on what was a tough tour with 27 Squadron RAF Regiment. Our longest patrol was 16 days on the ground, living in patrol bases.
You get the banter for being a reservist, but our skills and drills are as good as the regulars and you hold your own – out there you are just one of the lads. As a reserve you do expect to do the dangerous side of the job – it's what I joined for, to be on the front line.
504 (County of Nottingham) Squadron, RAuxAF, is an Operational Support Squadron, based at RAF Cottesmore. The Squadron's role is to recruit, train, mobilise, and retain reserve Regiment Gunners to augment and support the regular RAF Regiment Squadrons on operations. Training is mainly at weekends and most personnel work in full-time civilian jobs as well as serving as reservists.
Since the end of the Second World War, two members of the RAuxAF have lost their lives on operations – both were serving with 504 Sqn.
SAC Gary Thompson was killed in action on 13 April 2008, aged 51, and SAC Chris Dunsmore was killed in action on 19 July 2007, aged 29.
Just over 1,300 personnel serve as part time RAF Volunteer Reserves, with individuals deployed around the world. At present more than 100 are mobilised in support of operations in Afghanistan and Libya; 11 per cent of the current trained strength.
Published 29 September 2011