RAF reservist claims Guinness World Record
An RAF reservist has claimed the world record for running the fastest ever half-marathon - in a gas mask.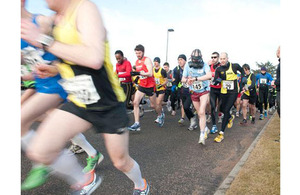 Senior Aircraftman (SAC) Andy McMahon, a member of 2622 (Highland) Squadron of the Royal Auxiliary Air Force Regiment, based at RAF Lossiemouth, ran the Kinloss to Lossiemouth half-marathon on Sunday 19 February 2012, breaking the Guinness World Record for the fastest half-marathon completed in a gas mask.
SAC McMahon completed the course in 1 hour, 27 minutes and 23 seconds, breaking the previous record of 1 hour, 51 minutes and 31 seconds by 24 minutes and 8 seconds. He ran this half-marathon in the newly-issued General Service Respirator (GSR), which is now entering service with the Armed Forces:
The GSR is fantastic and streets ahead of the S10 respirator. I think I was running at almost maximum pace; I have been training hard but I did not imagine I would go anywhere near as fast.
SAC McMahon is now awaiting confirmation from Guinness for the World Record and said:
I would like to thank 2622 (Highland) Squadron Royal Auxiliary Air Force Regiment for all the support and encouragement I have received for all my record attempts. The assistance from the squadron and from RAF Lossiemouth have been constantly first-rate and with this kind of back up behind me it has definitely been a motivation for me throughout.
SAC McMahon, whose full-time job is as a Youth Development Officer with the Highland Council in Inverness, is no stranger to world record attempts as he is the current Guinness world record holder for running a marathon in military kit, when he completed the Lochaber Marathon in April 2009 in 3:49:21 wearing full body armour, uniform, boots and helmet; an incredible achievement given that the helmet and body armour alone weighed around 10 pounds (4.5kg).
Lieutenant James Fraser, Royal Navy, previously held the record for the 'fastest half-marathon in a gas mask' which he completed on 27 March 2011 in Yeovil.
On gaining this record SAC McMahon said:
I have trained very hard to beat the record held by Lieutenant James Fraser and I am absolutely delighted to have achieved this whilst gaining contributions to some very worthwhile charities.
2622 (Highland) Squadron plays a vital role in providing reservist RAF Regiment Gunners and other support personnel to reinforce the RAF on operations and in times of crisis.
As well as gaining another world record, SAC McMahon raised funds for Moray Firth Radio Cash for Kids and the RAF Benevolent Fund.
Published 12 March 2012