RAF rescues man and dog from cliff fall
The Sea King helicopter from E Flight, 202 Squadron, based at RAF Leconfield in Humberside, joined the coastguard and police at about 1600hrs…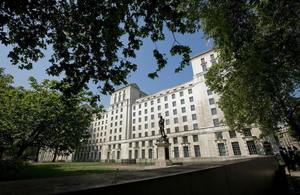 The Sea King helicopter from E Flight, 202 Squadron, based at RAF Leconfield in Humberside, joined the coastguard and police at about 1600hrs on Monday to rescue the man and his pet from what was described as an 'awkward position'.
The man from Rochdale and his dog had fallen 200ft (60m) down a cliff in Little Cliff, Cloughton, North Yorkshire.
The man was airlifted to Scarborough General Hospital where his injuries were described as 'serious but not life-threatening', including a broken wrist and leg.
Inspector Bruce Prendergast, North Yorkshire Police, said:
It is absolutely remarkable that this man has survived a 200-foot fall down the cliff face and escaped with injuries that are serious but not life-threatening.

It is testament to the hard work and bravery of the coastguard and RAF helicopter crew - who managed to extract the man from the bottom of the cliff in difficult circumstances - that he and his dog survived.
Police do not believe there were any suspicious circumstances surrounding the fall.
Published 19 May 2011