World news story
RAF Red Arrows meet Chinese Air Demonstration Team
Pilots from the Red Arrows shared their experiences with Chinese counterparts when both teams met for the first time.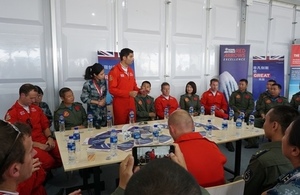 Members of the Royal Air Force Aerobatic Team spent time with the Chinese August 1st Air Demonstration Team on the second day of the Zhuhai Air Show.
The Red Arrows invited the Chinese pilots to observe a post-display debrief.
The teams sat side-by-side to listen to Squadron Leader David Montenegro, Team Leader of the Royal Air Force Aerobatic Team and Red 1, assess the team's performance and invite each pilot to share their own observations and feedback.
The structured debrief is one of the many ways in which the Red Arrows constantly pursue excellence.
The two teams took time to share personal experiences, discussing selection, rigorous training and the importance of timing in delivering crowd thrilling displays.
Officer Commanding Royal Air Force Aerobatic Team, Wing Commander Martin Higgins, said:
We are delighted to work alongside our Chinese partners at the Zhuhai Air Show and exchange experiences and ideas.

The meeting is another historic, special moment during our major tour of the Asia-Pacific and Middle East regions.

The two teams clearly share a common goal of always striving for excellence and, through doing so, inspire those watching the display.
One member of the Chinese Team, Captain Tao Jia Li, explained her passion for flying. She said:
I love flying, especially the J10. I like the challenge of flying lots of manoeuvres.
She offered advice to young girls considering a career as a pilot:
Pursue your dream and try to better yourself everyday. The opportunities are available.
The visit to China is part of the Red Arrows' Asia-Pacific and Middle East Tour, supporting UK interests across education, industry and business.
At the end of the meeting the Leader of August 1st Air Demonstration Team, Colonel Cao Zheng Zhong, said:
I am so happy to be able to meet the Red Arrows and I hope our teams can spend more time together during the rest of the airshow.
Document information
Published: 3 November 2016