RAF police support Afghan Army patrol
Members of the Afghan National Army (ANA) recently completed their first local liaison 'solo' patrol amongst settlements near their base in Helmand province, with RAF police officers providing additional security.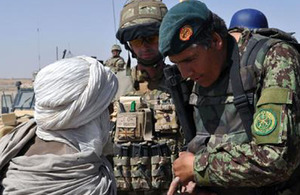 With the expansion of the neighbouring military camps of Bastion (UK), Shorabak (Afghan), and Leatherneck (US), in Helmand province, a variety of small settlements have developed outside the Main Entry Point (MEP).
Known locally as Shorab, this has, until recently, been a disorganised 'hotchpotch' of shacks and tents, offering basic services to the lorry drivers bringing supplies for the base. However, Shorab City, a new, more structured settlement, has been established slightly further to the north.
To ensure security for the military camps, local Afghans and visiting lorry drivers, members of the ANA have been jointly patrolling the settlements and engaging with locals under the watchful eye of their Danish military mentors.
The first ANA patrol undertaken without the Danish mentors was led by Sergeant Rahin Ullah, who was welcomed by all he met, despite having to inform some of the locals that they were required to move to Shorab City.
The RAF patrol commander, Sergeant John Muir, normally based at RAF Henlow's Tactical Protection Wing, led the RAF Police supporting contingent:
The ANA have undoubtedly come on leaps and bounds in terms of professionalism and capability, working with them and visiting the local population has been the highlight of my tour," he said.
Shorab City is situated close to Highway One, the main transport route across Afghanistan. It is formally laid out, with small trees marking the outline of various areas of the new settlement. Shorab City already has several grocery stores, a butcher and a baker selling a multitude of produce.
Sergeants Ullah and Muir were invited for chai (tea) by Mr Baryali and Mr Raim, two local shop owners, from Herat and Gereshk respectively. They discussed a variety of topics including the expansion of the settlement.
Mr Baryali spoke of his plans which included the imminent opening of a petrol station, the building of a hotel (already part-constructed) with a recreation area containing snooker tables, and, for the longer term, a swimming pool:
We often see ANA, UK, US and Bahraini patrols, and we have excellent relations with them all," he said. "This has led to good security, which I think will lead to rapid expansion here.
The successful patrol concluded with a visit to some of the other stores, including the butchers, where Corporal Louise Skinner RAF met the owner and some of his relatives.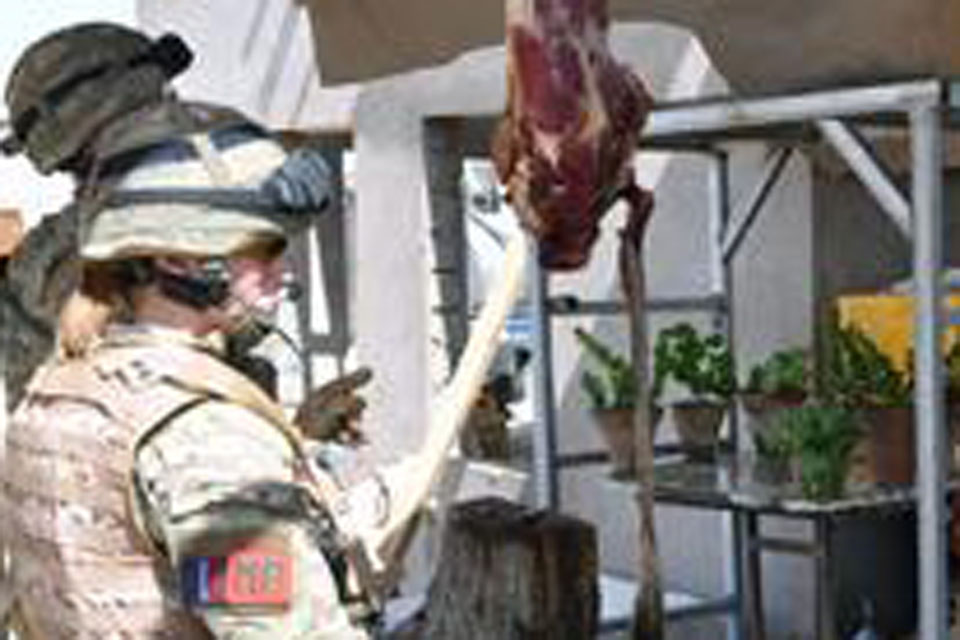 Like many of the RAF Police patrol members, Cpl Skinner is fast approaching the end of her tour. She arrived in October 2010, and will return to RAF Wittering in May:
I have really enjoyed my time in Afghanistan," she said. "Highlights have been working alongside the Afghan security forces within a large force protection team, which was great fun, however, my favourite moments were spent with the Afghan people.
Being a female has not caused any difficulties. Whilst you rarely see women in the local area, my presence has always been welcomed, wherever we have gone.
I have missed friends and family, but would be happy to stay longer, as I feel we are really making a difference," she added.
Published 27 April 2011