RAF Police receive Afghanistan campaign medals
Members of No 2 (Tactical) Police Squadron have received their Afghanistan Operational Service Medals after returning from Helmand province.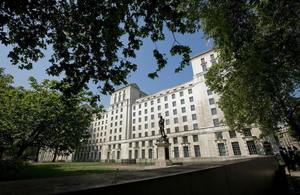 No 2 (Tactical) Police Squadron (2 TPS) deployed to Camp Bastion in Helmand province for six months from October 2011 to provide integrated force protection with the RAF Regiment.
The squadron worked alongside Royal Tongan and US Marines to ensure that the base, with a population of 30,000 military and civilian personnel, remained safe and secure.
One of the most important tasks performed by the RAF Police at Camp Bastion is making sure that the high number of military and civilian convoys, which arrive at and depart from the base daily, present no threat.
This is achieved at the main entry point by a systematic series of checks and searches, each of which gives an increased level of assurance as the vehicle or pedestrian approaches the RAF Police position.
The RAF Police are also responsible for helping to provide security for the airfield at Camp Bastion from where aircraft depart to take part in operations all over Helmand province.
During their six-month tour, 2 TPS searched and processed an average of 13,500 personnel and 5,300 vehicles per month, utilising military arms and explosives search dogs.
The police personnel received their medals earlier this month when they proudly paraded at their RAF Henlow headquarters. The medals were presented by Air Marshal Andy Pulford, Deputy Commander Capability, in front of their families, friends and colleagues.
Published 16 May 2012