The Ministry of Defence can confirm that a Royal Air Force Hercules transport aircraft has left Libya with 64 passengers and a dog.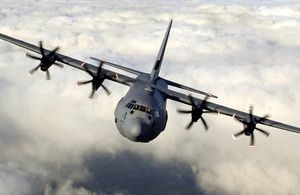 The MOD can confirm that a Royal Air Force C-130 Hercules has departed Tripoli with 52 British passengers on board (including one dog), and 13 other entitled passport holders, bound for Malta. A second C-130 has deployed to Malta and stands ready to assist if required.
HMS Cumberland has docked at the Libyan port of Benghazi and is currently preparing to carry out the evacuation of British nationals.
See Related Links to watch a special report on the ongoing situation from British Forces News.
In addition, the MOD continues to assist Foreign and Commonwealth Office (FCO) officials in Tripoli and has pre-positioned a number of other assets and personnel in the area to assist as and when appropriate as part of the overall Foreign Office-led response. A number of further UK assets are also being readied to assist the FCO if required.
The Secretary of State for Defence, Dr Liam Fox, said:
In support of the Foreign Office-led operation to evacuate British nationals from Libya, I can confirm that a RAF Hercules C-130 is currently in the air having taken off from Tripoli airport with 51 British people on board. It will land in Malta later this afternoon.
The Ministry of Defence has had a range of assets in the eastern Mediterranean region for the last 24 hours, including HMS Cumberland, which is now alongside in Benghazi preparing to evacuate British nationals. Having pre-positioned various assets we are confident we have the necessary capabilities in place to support the ongoing civilian and commercial efforts to help Britons in need of assistance.
Published 24 February 2011