RAF personnel support helicopter crews on training exercise
Personnel from RAF Benson have been feeding and housing 500 Joint Helicopter Command personnel on their Afghanistan training exercise.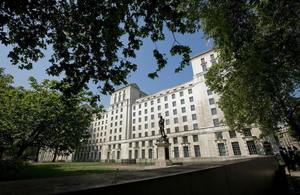 Exercise Pashtun Jaguar has been taking place over the last month on Salisbury Plain to provide essential training for personnel from the Merlin, Puma, Chinook, Apache and Lynx forces, which make up Joint Helicopter Command (JHC), before they deploy to Afghanistan.
It is also delivering aviation support for the much larger ground exercise, Exercise Pashtun Dawn, in which battle groups from 12 Mechanized Brigade are training also on Salisbury Plain for their upcoming deployment to Afghanistan on Operation HERRICK 16.
Exercise Pashtun Jaguar aims to prepare JHC personnel and Army brigade troops for the threats and combat that they will face together in Afghanistan.
Additionally, complex training serials and scenarios are compiled by Exercise Control staff, and through this active role-play personnel are provided with a safe environment to test themselves and the equipment that they will be reliant on during operations.
The 100 personnel from the Real Life Support Team at RAF Benson have worked behind the scenes to make sure that this vital training has run smoothly. They have provided 70 canvas tents, 55,887 meals and 3,500 litres of hot water.
Colonel Neil Sexton, Assistant Director of Operations at Headquarters JHC, said:
This is the first time that the RAF has provided Real Life Support to Exercise Pashtun Jaguar. RAF Benson has done a fantastic job!
Flight Lieutenant Ash Philpin, Flight Operations Officer from RAF Benson, added:
The aim was to provide Real Life Support and make Exercise Control happen. We wanted to do this better than before, making the site comfortable without being soft. It is the little things which lift morale - like a late duty supper for personnel finishing shift in the early hours.
Number 3 Mobile Catering Squadron (3 MCS) from RAF Wittering provided the catering services, supported by personnel from RAF Benson and RAF Odiham. On one day a typical breakfast would include:
400 eggs
18kg of bacon
18kg of sausages
15kg of baked beans
11kg of tinned tomatoes
10 loaves of bread (fried)
46 litres of tea
20 litres of coffee.
Sergeant Mick Riddell of 3 MCS said:
The most popular dishes are burgers, griddled chicken and chocolate sponge, and, for the Army, anything with a fried egg on it!
The RAF support staff take their role very seriously and know just how much their efforts were appreciated by the troops. Corporal Dawn Danby from RAF Odiham said:
Although saying you're a caterer is not as cool as saying you are a Puma pilot, we are just as important! We have a can-do attitude and one that is similar to our customers; we know what it is we want whilst in the field so we can give it to them.
Squadron Leader Jim Thorley, from 33 Squadron at RAF Benson, Officer Commanding Real Life Support for Exercise Pashtun Jaguar, added:
The Real Life Support Team has done a fantastic job. It took months of detailed planning which has proved to be extremely thorough, and the can-do attitude, on-site in freezing conditions, brought the plans to life and has kept things running smoothly.
It is clear from talking to the aircrew and ground crew from the RAF and Army Air Corps units that are here that the facilities provided have been to a very high standard.
Published 9 March 2012