RAF personnel remember Dambusters leader
Exactly 69 years to the day after the famous Dambusters Raid, the people of the Cornish fishing town of Porthleven, with the support of personnel…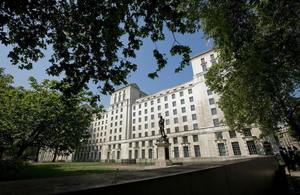 Exactly 69 years to the day after the famous Dambusters Raid, the people of the Cornish fishing town of Porthleven, with the support of personnel from RAF St Mawgan, celebrated the life and achievements of Wing Commander Guy Gibson, who led the famous and incredibly dangerous attack on the Ruhr Dams in May 1943.
The Dambusters Raid was carried out by the specially formed 617 Squadron who used Barnes Wallis' famous 'bouncing bomb' to strike against the critical dams which supported the German industrial might during the Second World War.
Wing Commander Gibson's daring and courageous acts that day led to him being awarded a Victoria Cross; the highest military decoration awarded for valour 'in the face of the enemy'.
Following the delivery of his own bomb at the Mohne Dam, Wing Commander Gibson then returned and circled at low level, deliberately drawing enemy fire onto himself so that the other aircraft had a greater chance of success in delivering their bombs.
He then repeated this heroic act again with aircraft attacking the Eder Dam, where he repeated the same tactics and selflessly placed himself and his crew in danger to achieve the mission aim.
Of the 19 Lancaster Bombers that set out that night to conduct the raid, only 11 returned and 53 of the crew members were killed.
Wing Commander Gibson sadly lost his life on 19 September 1944 during another bombing raid over Germany.
Porthleven, as Wing Commander Gibson's favoured Cornish retreat, and his home during his formative years, paid tribute to his life and achievements through the unveiling of a bronze plaque dedicated to his memory.
Personnel from RAF St Mawgan were proud to parade in his memory, and were supported by cadets from the Plymouth and Cornwall Wing Air Training Corps.
As the only RAF station in the South West of England, RAF St Mawgan strives to support and broaden the wider appreciation of the region's military heritage.
One of the RAF St Mawgan personnel parading was Flight Lieutenant Pete Redgrave, who also spent his childhood days in Porthleven.
Flight Lieutenant Redgrave served in Afghanistan from 2006 to 2009. Also in attendance was his father, Squadron Leader (Ret'd) Marc Redgrave, who served at RAF St Mawgan from 1987 to 1993 on Nimrods, and who still lives in the town with his wife Lynn.
Flight Lieutenant Redgrave said:
It was an honour to be involved in the organisation of a parade to remember one of the RAF's most evocative leaders; especially here in my home town.
Flight Lieutenant Jeff Spencer, spokesman for RAF St Mawgan, said:
It was a great pleasure to bring a team to such a beautiful location to recognise probably our most iconic aviator. All of the team today were volunteers and proud to be here.
Group Captain David Robertson, Head of Operational Training at Headquarters Air Command and a previous Commander of 617 Squadron, had the honour of unveiling the plaque.
Group Captain Robertson stood in for the current Dambusters Commander as the entire Tornado squadron is currently serving on active duty in Afghanistan. He said of Wing Commander Gibson before unveiling the plaque:
He was, as 'Bomber Harris' described, as great a warrior as this island has ever bred.
A flypast involving two Hawk aircraft from Royal Naval Air Station Culdrose marked the moment the plaque was unveiled.
RAF St Mawgan is part of the RAF's No 22 (Training) Group which exists to recruit and train RAF personnel and provides trained specialist personnel for all three Services.
Published 23 May 2012