News story
RAF passes on Baltic air policing role
The handover marks the conclusion of a 4-month NATO deployment to secure NATO's airspace over Latvia, Estonia and Lithuania.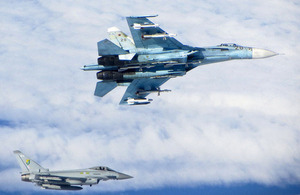 The Royal Air Force's No 135 Expeditionary Air Wing has formally handed over the role of supporting nation in the Baltic air policing (BAP) mission to the Royal Canadian Air Force.
The handover ceremony marked the conclusion of the 4-month deployment of 4 RAF Typhoon fighter aircraft that have been providing reassurance to the UK's allies in the region.
Over the past 10 years the BAP mission has seen NATO allies deploy air defence aircraft to secure NATO's airspace over the Baltic nations of Latvia, Estonia and Lithuania.
Additionally, the role of lead nation was handed over from the Polish Air Force to the Portuguese Air Force.
The British Ambassador to Lithuania, His Excellency David Hunt, said:
The deployment of the RAF Typhoons has been seen as an act of solidarity during a period of genuine insecurity in Lithuania's eastern neighbourhood.

Our bilateral relationship is already close but the RAF's augmentation of BAP has added another dimension to our growing defence co-operation.

The RAF has enhanced the UK's reputation over the last 4 months and I am very grateful for everything they have done.
Published 1 September 2014