RAF paramedic undertakes fundraiser while in Afghanistan
A paramedic serving on the Medical Emergency Response Team (MERT) in Camp Bastion, Afghanistan, is using his spare time to undertake 20,000 press-ups and sit-ups for charity.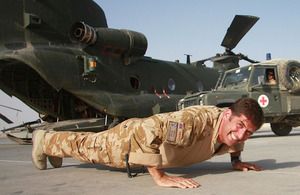 Not content with providing life-saving care to servicemen currently serving in Afghanistan, Flight Lieutenant Andy Smith decided he wanted to do more.
He is raising money for the British Limbless Ex Service Men's Association (BLESMA) and Combat Stress by completing 160 press-ups and 160 sit-ups every day until he reaches the 20,000 target. By his calculations it will take him 62.5 days to complete the task.
Sadly, it was when an RAF Regiment Gunner, Senior Aircraftman Kinikki Griffiths, was the 320th serviceman to die that Flight Lieutenant Smith, an ex-RAF Regiment Gunner himself, decided he would set himself the challenge.
He took the number 320 and gave himself the target of completing this many exercises a day, split between press-ups and sit-ups.
He decided to continue until he had reached a target of 20,000. Flight Lieutenant Smith said:
I wanted to do more and decided on this challenge because it is something that I believe I can achieve while on duty with the MERT.
BLESMA and Combat Stress are charities both very close to my heart. BLESMA helps not only serving personnel who have lost limbs, but ex-servicemen and women and their dependants and widows, and Combat Stress specialises in the care of veterans' mental health.
This is a serious challenge for Flight Lieutenant Smith because his MERT role sees him on call at the flight line for 24 hours and then on call for a further 24 hours at the hospital. This routine continues for his three-month tour.
Flight Lieutenant Smith and his MERT colleagues are frequently called to the aid of injured soldiers in the field, providing life-saving care in the air.
His team, which is made up of a doctor, two paramedics and a nurse from the Royal Air Force, are all right behind him, supporting him in his endeavours.
Squadron Leader Adam Manson said:
Andy does an amazing job on a daily basis and everyone on the MERT is behind him on his challenge. BLESMA and Combat Stress are both great causes and so we all try and keep him motivated while he exercises. I am confident he will reach his target.
Flight Lieutenant Smith, aged 41, from Manchester, joined the RAF in 1985 and gained his commission to become a paramedic in 2006.
He has already raised approximately £700.
Published 9 August 2010