RAF Parachute Jumping Instructors celebrate 70 years
The tradition began when a parachute training school was formed at RAF Ringway on 21 June 1940 as the Central Landing School which from 1 October…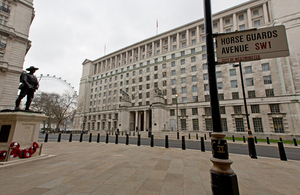 The tradition began when a parachute training school was formed at RAF Ringway on 21 June 1940 as the Central Landing School which from 1 October 1940 was designated as the Parachute Training Squadron of the Central Landing Establishment.
It became an independent unit as the Parachute Training School on 15 February 1942. Following the formation of a second school in India, the current name of No 1 Parachute Training School was adopted on 27 July 1944.
No 1 Parachute Training School (PTS) was formed at a critical time in the nation's history and over the years No 1 PTS has been directly involved in the airborne assaults in Sicily, Normandy, Arnhem and Suez.
Officer Commanding Airborne Delivery Wing (ADW), Wing Commander Glynn Allcock, said:
We were born 70 years ago for a particular purpose; to rapidly insert troops into areas where they couldn't get by any other means of transport.

It's apt that 70 years later, here we are today doing exactly the same thing in Afghanistan, so we are as relevant now as when we were first formed and we're still doing exactly the same job.
ADW personnel, who are based at RAF Brize Norton, comprise Physical Education Officers and Physical Training Instructors - all of whom are qualified Parachute Jumping Instructors (PJIs).
The Wing consists of No 1 Parachute Training School and a Headquarters Squadron which co-ordinates activities. The Parachute Training School is responsible for delivering all initial training to airborne troops across all the Services.
Wg Cdr Allcock continued:
For 70 years we have been the sole trainers across all the Services, training the Royal Marines, niche personnel like the Submarine Parachute Assistance Group, and most recently we have been working hard to qualify the parachutists from 16 Air Assault Brigade who are just about to go to Afghanistan.

It takes a particular type of mentality to be a PJI; we are a small elite team and after that first jump it's in your blood.
Serving and retired PJIs gathered at RAF Weston-on-the-Green to see equipment being showcased by the Parachute Training School, the Joint Air Delivery Test and Evaluation Unit (JADTEU), and the Parachute and Armament Engineering Flight (PAEF). The JADTEU and the PAEF provide vital support to the school by evaluating new equipment and by maintaining in-Service equipment to the highest standards.
There were a number of parachute drops, including low-level, freefall and tandem jumps, during the day.
PJI Sergeant Graham 'Rosie' Rose said:
PJIs have a physical training instructor background because of the need to be very fit. The parachute weighs about 60lbs [27kg] and then extra equipment can weigh up to 120lbs [54kg], so you've got to be physically strong to keep doing the descents.
The RAF Falcons Parachute Display Team performed an 11-man parachute jump and team member Corporal Brian Wright said:
It's very poignant to mark the PJI 70th anniversary and to have the opportunity to chat to the ex-PJIs and to get an idea of their experiences. We can also pass on to them what we do at the moment.
As part of the 70th anniversary celebrations a formal dinner for 190 serving and retired PJIs was held in the Officers' Mess at RAF Brize Norton.
Published 22 September 2010