RAF officers prepare for North Pole expedition
Two members of the RAF Regiment are currently preparing for an expedition that will see them ski, walk, swim and paddle their way unsupported across pack ice to the geographic North Pole.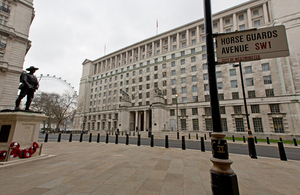 The RAF Regiment Northern Exposure 2011 expedition will set out from Cape Discovery in northern Canada at the end of February 2011 and cross 478 miles (769km) of the vast frozen sea ice of the Arctic Ocean.
It is being undertaken by Wing Commander Matt Stowers and Squadron Leader Jules Weekes who are both currently in Courchevel, France, on pre-expedition training.
Wg Cdr Stowers, from Plymouth, joined the Royal Air Force as a Regiment Officer when he was 19. Having completed his training he was posted to Number II Squadron RAF Regiment, the Corps only parachute-capable unit, as a Flight Commander.
He has subsequently served on Number II Squadron RAF Regiment as both the Deputy Squadron Commander and the Squadron Commander and has recently served in Afghanistan and Iraq. He said:
I have been very fortunate during my time in the Royal Air Force to have had the opportunity to undertake a number of demanding sporting activities.

In my early twenties I skied for the Royal Air Force in both the Nordic and Biathlon British Championships, and have maintained an interest in skiing ever since.
In 2003, with another Royal Air Force Regiment Officer, I rowed across the Atlantic. The journey was an epic; we expected to complete the crossing in about 55 days - the journey actually took 78 days, 5 hours and 43 minutes. Although the row was both physically and mentally demanding it taught me a lot about 'big trips' and only served to heighten my desire to do even more demanding trips.
Sqn Ldr Weekes also joined the RAF when he was 19 and on completion of his training was posted to Northern Ireland where he served for 18 months as a Flight Commander. After this tour, he was attached to the Army for a number of years, and also served with the Royal Marines in Iraq:
I keep a very active lifestyle which includes both competitive sport and various Adventurous Training activities including mountaineering and scuba diving," he said.

During my time with the Army I undertook a full season of Nordic and biathlon skiing and have since skied regularly both alpine and touring.

Although I have participated in a number of expeditions, none have been as arduous or as demanding as this, but I am looking forward to the challenge.
The aim of the RAF Regiment Northern Exposure 2011 expedition is to reach the geographic North Pole as quickly as possible. It is expected to take anywhere from 38 to 60 days.
The North Pole has been described as the 'Everest' of polar expeditions but is, as stated by renowned mountaineer Reinhold Messner, 'ten times as dangerous'.
Surrounded by sea ice and in total darkness for half the year, the Pole is attainable only during a short 'time window' - March to May.
If an expedition leaves too early, darkness and extremely cold temperatures prevail. If an expedition leaves too late, the Arctic Ocean is transformed into a watery enshrouded pack of drifting sea ice.
The challenge for the RAF officers will be the monotonous hauling of a personal sled - weighing 150kg at the start - over pack ice, pressure ridges, swimming across narrow open water ice leads, and paddling across larger stretches of open water, all in extreme temperatures.
All of this will be undertaken with the constant worry of not only the environment but also the ever-present polar bear.
Chief of the Air Staff, Air Chief Marshal Sir Stephen Dalton, who is the Service patron for the expedition, said:
I am always very keen to support such challenging enterprises as they develop the type of individuals and leaders who are able to perform exceptionally well despite considerable physical and psychological pressures.

It is just such experiences which not only transform good people into the type of leaders and team players who are essential to the success of the operations in which we are currently involved, but which give them the mental robustness to deal with operational uncertainty in the 21st century.
See Northern Exposure 2011 for more on the expedition.
Published 12 January 2011