RAF officers make a Great Escape
Famously portrayed in the 1963 Hollywood movie starring Steve McQueen, the re-enactment of the mass escape in 1944 took place over two weeks…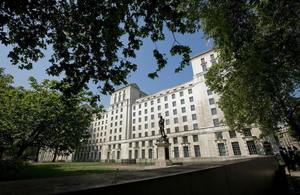 Famously portrayed in the 1963 Hollywood movie starring Steve McQueen, the re-enactment of the mass escape in 1944 took place over two weeks and was filmed by Wildfire TV. The resulting documentary, 'Digging the Great Escape', will be broadcast on Channel 4 later in the year.
On the night of 24 March 1944, 76 allied airmen escaped from the North Compound of Stalag Luft III, a supposedly 'escape-proof' POW camp. The prisoners, almost all of whom were RAF officers, escaped down a tunnel they had dug themselves under the noses of their German guards.
'Harry', as they called the tunnel, was seven metres deep, more than 100 metres long, and took a year to complete.
See more images in the picture gallery at Related News.
To get an insight into the ingenuity and sheer effort involved in the escape, the team of six serving RAF officers put their own skills and training to the test by attempting to recreate some of the key tools, mechanisms and structures created by the escapees; and by taking an active part in the excavation of a section of tunnel using replicas of the original tools and shoring.
One of those taking part was Flight Lieutenant (now Squadron Leader) Ben Russell, an Aerospace Battle Manager based at RAF Waddington.
He said:
Having grown up with the 'Christmas Movie' that 'The Great Escape' has become, I have always been fond of the story.

This became personally important when I chose to become a serving member of Her Majesty's Armed Forces, and furthermore when I experienced escape and evasion training. Serving in Afghanistan and over Libya certainly focuses the mind on POW experiences.

I particularly enjoyed seeing the artefacts recovered from the site and having the opportunity to solve some of the problems that these men faced.
This brought a sense of reality to the events more than the 'Hollywood spin' that the movie uses and gave me a real insight into their struggles.
In a replica Hut 104 the team assembled to attempt to reconstruct equipment made and used by the POWs; these included a tunnel ventilation pump, a tunneller's tool kit, a civilian uniform and briefcase, a passport and travel documents, and a section of rail track and wagon, using records, pictures and original artefacts for reference.
Flight Lieutenant Jim Smith, an Intelligence Officer based at RAF Brize Norton, said:
Learning from the veterans was the unique element of this force development exercise; I was particularly fascinated to find out how they kept everything secret from the German guards.

Actually recreating the tasks ourselves proved how difficult that added level of security must have made their work.

I was chosen to perform the role of the 'Forger', which seemed entirely appropriate given my methodical skills as an analyst, but also perhaps because the Forger portrayed in the Hollywood film worked in photo-reconnaissance!

Intelligence is detailed work that must be accurate and timely, just like my work in Hut 104. Forging was equally painstaking and sometimes frustrating - by not creating perfect representations of original documents first time, I would waste hours of work.

For example, after working all day crafting a rubber stamp it proved too unrealistic when tested, but more annoyingly I had not inverted the Swastika. To get the fine detail and accuracy, I had to improvise new tools, put those frustrations aside and begin again.
The team were very fortunate to be advised by original prisoners of war Frank Stone, who was billeted in Hut 104, and Canadian Stanley 'Gordie' King, who operated the air pump and was placed 140th out of the selected 200 prisoners to go through the tunnel during the Great Escape; both were on hand to provide guidance to the team as they recreated the escape.
For Flight Lieutenant Mikey Robertson, a Tornado GR4 Navigator at RAF Lossiemouth, who previously played a part in a school play which dramatised the Great Escape, it was an honour to meet the veterans. He said:
To listen to the veterans' stories of the missions they flew into Germany, with clouds of flack filling the skies, tracer from AAA [anti-aircraft artillery] lighting up the sky in every direction and the ever-present threat from enemy fighter aircraft was awe-inspiring.

The reason for this was not just because they are incredibly thrilling and frightening experiences, but because the veterans told us how they didn't let fear affect them in conducting their mission.

Not when they were fighting for their lives in the skies over Germany, or when they were under tons of earth in a small, dark tunnel trying to escape the POW camp.

They were simply determined to achieve the task at hand, whether that was bombing a target or escaping, and they put all of their energy, knowledge and ingenuity into achieving it.

That is something we in the RAF today should also aspire to do in every challenge that we encounter.
Sadly, out of the 76 men who escaped during the Great Escape only three made it home. The others were all captured, many of them hundreds of miles from the camp. They'd travelled by train, boat and on foot.
They triggered a search of gigantic proportions - tens of thousands of German soldiers and police were deployed to hunt the escapees. Of the 73 captured only 23 were reimprisoned. The remaining 50 were all shot on direct orders from Hitler himself.
Group Captain Dave Waddington, himself an ex-POW in Iraq in 1990 and now Station Commander of RAF Cranwell, was approached to co-ordinate the RAF's involvement. He selected the willing participants from the many volunteers and oversaw their activities at Stalag Luft III.
He said:
It was a tremendous opportunity for all of us to spend time with the veterans at the place where they made history. They were truly inspirational and this comes across in the determination of the team to successfully complete the challenges they were set.

It was also very moving to see this respect reciprocated and the obvious pride of the veterans in their young successors of today's RAF.
The RAF personnel involved were selected to take part in this significant activity because of their links to the Great Escape, or their interest in these historic events.
For Flight Lieutenant Ryan Harris, an instructor at the Search and Rescue Training Unit based at RAF Valley, Anglesey, the experience was very personal, as he followed in his grandfather's footsteps:
I had always vowed that I would get out to Zagan in Poland to see the site of Stalag Luft III where my grandfather, Warrant Officer Ronald Skan, was held as a prisoner of war after he was shot down over the North Sea returning from a bombing raid in 1941.

Being part of the RAF team during this exercise made the whole experience so much better. I was able to chat to researchers and veterans about life in the camp.

By carrying out the same experiments that the POWs did, you realise the ingenuity of the guys. You get to understand their determination and their sense of loyalty to the Service when it would have been so easy to just sit back and admit defeat.

All in all, an incredible experience. Taking six RAF guys from six different air bases and throwing them together to see if they have still got what it takes. I think we can say hand-on-heart that yes we are still made of the right stuff!
Project Officer for this exercise and keen historian, Flight Lieutenant Tim Barlow, a Merlin Helicopter Force Training Officer from RAF Benson, previously led Project 104 which saw the replica Hut 104, from which the entrance to Great Escape tunnel 'Harry' was concealed, rebuilt to scale at Stalag Luft III Museum in 2009.
It now acts as a memorial to all those who were POWs at Stalag Luft III and as an education centre for visitors. Flight Lieutenant Barlow explained why this experience was the highlight of his RAF career:
This was truly a once-in-a-lifetime event and something that will remain with me for ever.

My involvement has always been extremely rewarding but the experience I had this summer was particularly special due to the presence of the veterans, my main motivation for doing this work.

The veterans are true heroes, humble and honest about their activities which they saw as duty and nothing more. They made this event unique.

Not only were we carrying out tasks to reconstruct 'escape activities' but at the site of the escape and under the guidance of the veterans themselves.
Digging The Great Escape will be broadcast later this year on Channel 4.
Published 26 October 2011