RAF officer trains first female Afghan helicopter pilots
The 'Thunder Lab' flight school is part of the NATO Air Training Command (Afghanistan) and the training given there is designed to help ease…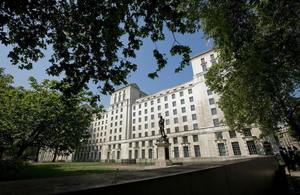 The 'Thunder Lab' flight school is part of the NATO Air Training Command (Afghanistan) and the training given there is designed to help ease the transition for Afghan Air Force officers who will soon travel from Kabul to the United States for pilot training.
The programme includes English language, along with aviation and professional skills, training to set up future pilots for success.
Flying Officer Atkinson, aged 22, is the UK's first female mentor at the school and is training a team of Afghan women along with their male counterparts. Her role is to teach a variety of aviation-related skills, including instructing students to fly 'virtual circuits' of RAF Brize Norton in Oxfordshire from computers.
Flying Officer Atkinson has recently finished her advanced multi-engine rotary wing (helicopter) course at RAF Shawbury and is to convert to front line helicopters later this year. When she was selected for the Afghan training role she said:
I wasn't really sure what to expect on my arrival here - but I'm very impressed by the Thunder Lab. The girls know this is a challenge and there are several cultural barriers to overcome, so it is tough for them, but I was pleased to see how enthusiastic the Afghan female officers are - and that they really want to be here, to work hard and succeed.
The biggest thing the Afghan girls struggle with is the combination of flying, thinking and talking. Flying is very three-dimensional and there's a lot to think about. They struggle initially, but it comes with time.
The Thunder Lab was launched in May 2010 and has so far trained 31 officers, with four females about to graduate and another 13 females arriving shortly.
The four female students who are close to graduation are Mari, 20, Sourya, 20, Masooma, 20, and Narges, 24.
When asked about the challenges she has faced, Mari said:
The hardest thing about learning to fly is landing. The communication is hard, having to fly, looking at the instruments, staying at the right altitude, translating everything. It was difficult to start, but now it's getting easier.
Masooma added:
Most Afghan families do not want their daughters to join the military. It is not normal in our culture, so they are worried about us in case something bad happens. It's not easy being here, and if the wrong people heard that we were in the military and found us, there would be big trouble, so we have to take security very seriously.
The female Afghan students are looking to join an elite club, with only one female officer currently flying the Mi-17 helicopter in Afghanistan, who is a pilot for the Ministry of Interior.
Narges said:
We just want to be pilots - that's the thing that drives us the hardest. Young females are getting bored with how things have been in the past in our country. It's now up to us to try and make some changes for the future. We would be very proud to fight for our country.
Flying Officer Atkinson, from Salisbury, hopes to continue her service and possibly return in a very different role. She said:
My goals for the future are to get qualified on a front line RAF helicopter and then join a squadron with the ultimate aim of returning on operations out here - but this time at the controls.
Published 21 June 2011