RAF officer in training for Olympic place
Flying Officer Andy Hadfield was only 15 years old when his schoolmate Chris introduced him to canoeing back in his native Worksop in Nottinghamshire…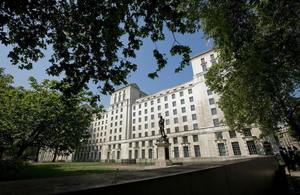 Flying Officer Andy Hadfield was only 15 years old when his schoolmate Chris introduced him to canoeing back in his native Worksop in Nottinghamshire - he was instantly hooked.
Fast forward 12 years and he is preparing for the opportunity of a lifetime - competing in next month's Kayak Slalom trials for a place in Team GB.
Before joining the RAF, Flying Officer Hadfield attempted to qualify in his chosen sport for the Beijing Games in 2008. Unsuccessful, he then decided to serve his country and joined the RAF in late 2010. He even considered quitting the sport to pour his energies into pilot training:
As much as I want to be an Olympic athlete, I always wanted to be a fast jet pilot, which is why I applied to the RAF straight after Beijing," he said.
However, halfway through officer training, Flying Officer Hadfield's dream was thwarted when he was informed that he was going to be made redundant. He leaves this autumn, bringing the curtain down on a brief but fulfilling career. He has though recently found himself a placement in industry.
Flying Officer Hadfield undertook the 32-week Initial Officer Training Course at RAF Cranwell, which all RAF officers undergo before moving onto specialist training for specific roles. He said:
My graduation was certainly one of the proudest days of my life and for my family. And I thought the training was excellent. It has given me skills in man-management, leadership, and improving awareness of how to motivate and lead others.
Upon receiving the news of his redundancy, Flying Officer Hadfield decided to have another crack at his Olympic dream and try to qualify for London 2012:
I was prepared to retire from the sport," he said. "I had that mindset, but if you've always aspired to go to the Olympics and only just missed out, the flame still burns and it's just a case of relighting it.
He has plunged straight back into full-time training, winning silver in last September's national championships.
A seasoned international athlete that has competed in world cup races and european championships, he's now going flat-out training six-days-a-week at the National Water Sports Centre in Nottingham in the hope of making the British Olympic team.
When he fell short in 2008, he drew some comfort from the fact that he was capable of challenging the best in the world:
It was a bitter-sweet highlight," he said. "That for me was a case of really stepping up to the mark and delivering when the pressure was on. It's been a dream since watching the Sydney Olympics and my desire is as strong as ever.
I've sat on the start-line knowing that the next 90 seconds decides whether I'm going to the Games and it's a very unique pressure.
He also says that he is more nervous of falling short in the trials than of taking part in the Games themselves:
For any athlete, if you can make it to the Olympics, you've reached the pinnacle of your sport. But first you've got to get there and, certainly in Britain, if you can win an Olympic trial, then you'll be in the top three in the world.

Whoever finishes first overall will be going to the Olympics, or if you finish in the top three, you'll be selected for Team GB and race at the european championships and world cup series - it's a straightforward first-past-the-post system. I know in my own heart I have to deliver a result, but hopefully my experience will help me to deal with it.
As a youngster, Flying Officer Hadfield never dreamt that he could follow in the footsteps of his idol Paul Ratcliffe who won silver in the Kayak Slalom at the Sydney Games. The modest officer said:
Olympians seem superhuman to a kid, but in reality they just put in a lot of work to get there and they might be slightly better than rivals at delivering the result when it matters. That's the difference.
While he'd love nothing more than to stay in the RAF, he's philosophical that after London 2012 his future lies elsewhere, and he is already hankering after a career in commercial aviation boosted by his RAF experience.
His biggest regret is that he never got the chance to take part in operations:
My childhood dream was to serve as a pilot on operations. It's the ultimate test, particularly for a pilot to see whether he can handle an aircraft and crew, while also playing a vital role in ground operations.
But he'll leave with fond memories and has formed some strong friendships for life:
The camaraderie with your close mates during basic training will be very hard to match.
He is particularly grateful to the RAF for the 'fantastic' sports lottery which sponsors him, and which he hopes to do proud at the forthcoming trials:
Ultimately in the Olympic trials, if you're second you might as well finish last," he said. "It's about being number one on the day. If I can get to the Olympics, I can be very confident about winning a medal. You've just got to get there and that's what I'm focusing on.
We need your help! We are trying out designs for a new single website for all of government and we'd love your feedback. Please visit the 'Government beta site' by clicking on the link under Related Links.
Published 26 March 2012