RAF officer first woman to complete Enduroman event
Flight Lieutenant Cadman is a training officer with HQ Air Cadets at RAF Cranwell. She has just completed the Enduroman Arch2Arc Challenge, …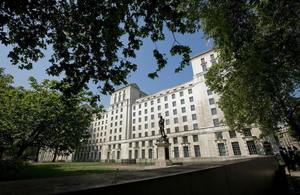 Flight Lieutenant Cadman is a training officer with HQ Air Cadets at RAF Cranwell. She has just completed the Enduroman Arch2Arc Challenge, the world's most demanding ultra-triathlon, comprising an 87-mile (140km) run from London's Marble Arch to Dover, a 23-mile (37km) swim across the Channel, then a 187-mile (300km) cycle from Calais to the Arc de Triomphe in Paris.
Flt Lt Cadman crossed the finish line at the end of the Champs Elysees in Paris at 1656hrs BST on Tuesday, 23 August 2011 - a gruelling four days, one hour and 37 minutes (97hrs 37mins) after setting off from Marble Arch on Friday .
The first leg, from London, involved a 23-hour night-run through Kent, arriving on Dover seafront at 1440hrs on Saturday, 20 August 2011, for a tearful reunion with her mother and father, Wendy and Brian Cadman.
After an ice-bath and a much-needed rest, during which her feet were tended to, Flt Lt Cadman started her swim to Calais on Sunday afternoon.
As Flt Lt Cadman dived into the waves off Shakespeare Beach in Dover, the ultimate good luck flourish was performed by a Lancaster bomber of the Battle of Britain Memorial Flight, in the skies above her. Its four engines reverberated along the white cliffs as the historic aircraft circled the tiny figure in the water below.
During her 16-hour overnight swim Flt Lt Cadman battled a heavy swell and 25-knot (46km/h) winds that came close to sinking her bid in mid-Channel. More than once, the pilot of the support boat came close to calling off the attempt because of the weather.
What should have been a 23-mile (37km) crossing was turned into a 34-mile (55km) swim by the changing tides.
As well as being the first woman, Flt Lt Cadman, is only the eighth person to complete the Arch2Arc Challenge:
It was pretty daunting," she said, "but I have been working up to this for some time, and raising money for Help for Heroes and ShelterBox disaster relief is a great motivation to see it through.

The great thing about being in the Royal Air Force is that, as an organisation, it is committed to helping people reach their potential and achieve their ambitions. I have had a great deal of support from the RAF with flexibility over training and competing.
Waiting beneath the Arc de Triomphe to offer his congratulations was the Defence Attache to France, Air Commodore John Maas. He said:
[Flt Lt Cadman] has completed a great personal challenge, which is also good for young women and for the RAF. She also represents Britons performing at the highest level.
Tearful mum Wendy said:
I had no doubt that she would do it when she first mentioned it.
As part of her preparation for this challenge, Flt Lt Cadman has undertaken a number of other events, including winning the female category of the Enduroman UK Double Ironman contest, swimming 4.8 miles (8km), cycling 224 miles (360km), then running a double marathon without sleeping.
In February, Flt Lt Cadman became only the fifth person ever to complete the gruelling Enduroman Lanzarote Ultra, and has been keeping herself in shape since by doing the occasional 50-mile (80km) training run.
Her Commanding Officer, Air Commodore Barbara Cooper, said:
Everyone in the RAF is extremely proud of Flt Lt Cadman. She has incredible determination and no shortage of courage to be undertaking a challenge of this magnitude. We all wish her every success.
Flt Lt Cadman started swimming at the age of nine and ran her first half marathon when she was a student at Leeds Metropolitan University. She completed her first triathlon season in 2004/5 and undertook the Ironman Germany in 2006.
By this time the bug had truly bitten, so, in the same year, she ran the London Marathon then embarked on the unbelievably daunting 160km desert foot race, the Libyan Challenge, becoming one of only six women to finish. This was followed by an invitation to take part in a six-day adventure race in Tasmania.
In 2010, Flt Lt Cadman completed the Ironman Switzerland, then won the UK Double Ironman before taking on the Lanzarote Ultra. All of which, Flt Lt Cadman believes, was ideal preparation for this, the hardest challenge she has ever taken on.
Published 26 August 2011