RAF nurse flies with lifesaving team in Afghanistan
Saving lives is in the blood of Flight Lieutenant Vanessa Miles, presently working with the RAF Medical Emergency Response Team on operations in Afghanistan.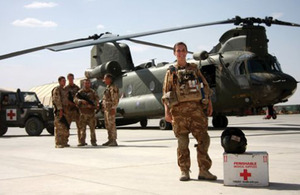 Flt Lt Miles has been an emergency nurse since 1994, joining the RAF two years ago. The profession runs in her family - both Flt Lt Miles' mother and sister were also nurses.
Her training and family ties have stood Flt Lt Miles in good stead for her current role on Operation HERRICK.
During a recent emergency call, her team flew in to pick up five Afghan civilians who had been severely injured in a blast from an improvised explosive device (IED):
We are working in the area of operations in Helmand and go out to all ISAF military, Afghan National Army, Afghan National Police and any Afghan nationals - both adults and children," she said.
There are a lot of local nationals who have been casualties as a result of IEDs, which can be very traumatic.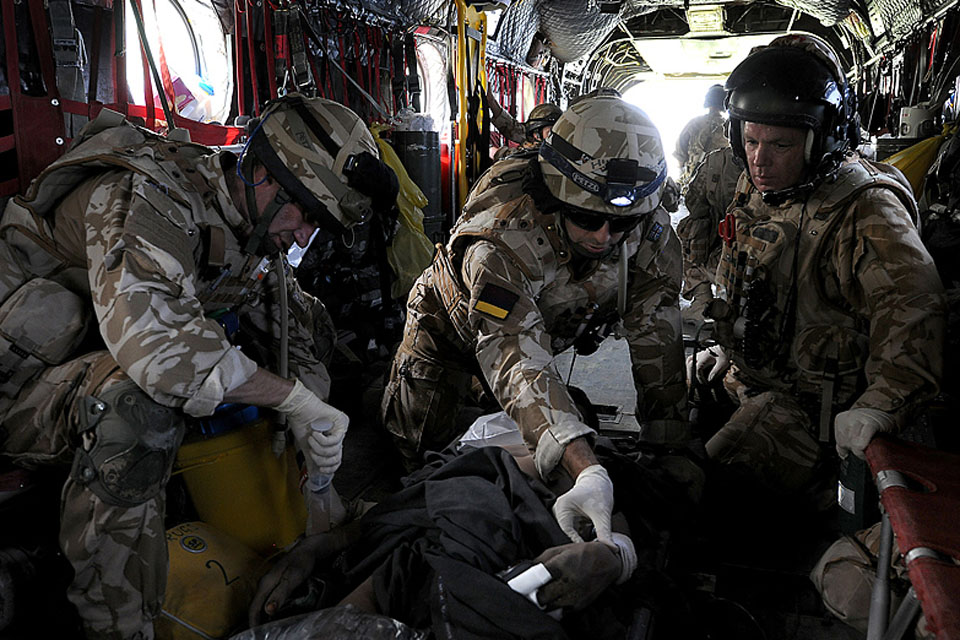 A Medical Emergency Response Team (MERT) consists of a medical officer, two paramedics and an emergency nurse, backed up by Gunners from the RAF Regiment providing force protection. When the call comes in, all will be flown to the casualty in the back of a Chinook kitted out with an extensive range of lifesaving equipment:
With MERT we can take an element of a hospital to the casualty - in effect it is a flying A&E in the back of a Chinook," said Flt Lt Miles.
"We can provide very effective pain relief and transfuse blood pre-hospital treatment - and that can make a lot of difference."
In the back of the Chinook, the emergency nurse wears a flying helmet so she is on comms within the aircraft to hear the important information that is being relayed through the command chain on the ground to the aircrew, including the number of casualties and the nature of their injuries:
The pilots are very adept at flying tactically and the Chinook has armour protection," said Flt Lt Miles.
We will get updates on the situation and what is happening on the ground.
I actually feel very safe on the back of the helicopter, and the medics on board are very experienced," she added.
It is certainly the most rewarding work I have done.
Flt Lt Miles had good training for her work in the RAF, having provided 'expedition medicine' for the Raleigh international charity in remote areas of Chile and Borneo, and working in a hill clinic in India.
She will join the Tactical Medical Wing at RAF Lyneham on her return from Afghanistan:
I got into emergency medicine as no two days are the same. I don't get an adrenaline rush but I certainly like the variety," she said.
The thing that really makes the MERT job so much more rewarding is that we are helping the guys on the ground.

We have the luxury of coming back to Camp Bastion at the end of a shout, but those guys stay out there. They work hard for us and it's nice to go out and help them when they do end up in trouble.
This report was first published by RAF News on 6 September 2010.
Published 9 September 2010