RAF nominated for lesbian recruiter of the year award
g3 is a national free magazine aimed primarily at lesbian and bisexual women with a readership of 140,000 and complements other free magazines…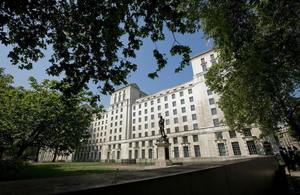 g3 is a national free magazine aimed primarily at lesbian and bisexual women with a readership of 140,000 and complements other free magazines such as 'Out in the City', 'Out at Work' and 'Proud'.
The RAF has had a close relationship with g3 for many years, working closely with the publisher, Square Peg Media, to reach out to the lesbian, gay, bisexual and transgender (LGBT) population to help them see the RAF as an employer of choice which celebrates the diversity of its staff.
And now the RAF has been nominated for the magazine's annual awards by readers who have recognised the work the RAF has done to directly include LGBT personnel as potential recruits.
Air Marshal Andy Pulford, Air Member for Personnel, said:
The RAF is delighted to be nominated in the annual g3 Readers' Awards as 'Recruiter of the Year'; we believe this nomination demonstrates our continued commitment to diversity and in particular to our LGBT community.
The RAF faces stiff competition in the category against companies such as Barclays and Societe Generale, both multinational corporations with a lot more money to spend on directly recruiting LGBT personnel.
g3 magazine is now asking readers to vote for who they think should win and be recognised for their gay-friendly credentials, or the work they've done helping the LGBT community. You can vote on the magazine's website before 15 January 2012. See Related Links.
Last year, the RAF, for the first time, attained prestigious recognition by renowned charity Stonewall as a 'Top 100' employer for lesbian, gay and bisexual people in Britain. See Related News to read more on this.
Published 10 January 2012