News story
RAF Museum successfully raises Dornier Do 17
The only known example of a Second World War Dornier Do 17 aircraft has been successfully lifted from Goodwin Sands in the English Channel.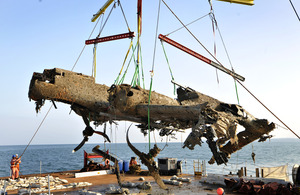 Earlier plans to lift the Luftwaffe aircraft had been hampered by strong winds in the area, but today the RAF Museum team is hoping to be able to tow the raised aircraft – shot down off the Kent coast more than 70 years ago – into port.
The team last attempted to lift the aircraft from its resting place 50 feet below the surface on 2 June, but bad weather thwarted that attempt when a sudden increase in wind strength made the sea too choppy to complete the lift.
Following that abortive effort, lifting equipment was attached to what were believed to be the strongest parts of the aircraft's frame in order to raise it whole in a single lift, instead of constructing a cage around it, which had been the original plan.
The wreck is believed to be the aircraft with call-sign 5K-AR, which was shot down on 26 August 1940 at the height of the Battle of Britain.
Two of the 4 crew members died and were buried elsewhere, and 2 – including the pilot – survived to become prisoners of war.
The existence of the aircraft at Goodwin Sands became known when it was spotted by divers in 2008.
A 2-year restoration of the aircraft will now take place at the RAF Museum's conservation centre in Cosford, Shropshire.
The RAF Museum said that members of the public wishing to see the Dornier while it is being conserved are invited to do so from this coming weekend onwards.
The recovery and conservation of the Dornier, together with next year's new exhibition 'The Great War in the Air', are the first steps in transforming the RAF Museum as part of the national and international programme marking the centenary of the Royal Air Force in 2018.
Published 11 June 2013