RAF motorbike safety plan to cut road deaths
In 2009 the Royal Air Force lost more people to motorcycle accidents than it did on front line operations in Afghanistan - the worst casualty level in the Armed Forces. Now the Service has launched a road safety drive to make motorcycle riders more aware of the risks they face.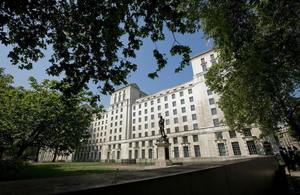 In 2009 the fatality figure in the RAF rose 200 per cent on the previous year.
It is not just the avoidable deaths that have given cause for concern. MOD accident trend investigators claim other figures, including for non-fatal injuries, accidents and incidents, could be higher than those actually recorded.
Air Vice-Marshal Nick Kurth, Chief of Staff Support at Air Command, said:
I have the unenviable task of presenting our safety statistics to the Service's seniors.
It is worrying that there are more fatalities involving our personnel riding motorcycles than killed on operations.
This cannot be a good position to be in and we must take steps to help our personnel with improving their motorcycling skills in order to reduce the accident rate.
Warrant Officer Class 1 (WO1) Billy McLean, based at Abbey Wood, said:
Last year the RAF had five deaths. Motorcycle deaths across all Services is the highest figure for any single type of vehicle.
We cannot say there has been an improvement until the five-year average comes down.
Figures are probably higher for non-fatal incidents. Certainly when personnel are on leave, some people are not necessarily going to report that they have had an accident unless it affects them at work.
People who are used to working under pressure often seek to continue the adrenaline rush out of work, according to medical experts. Psychologist Dr Alastair Ross said:
RAF personnel are used to dealing with high levels of information and stressful situations.
People adapt to that lifestyle in different ways. Some can switch on and off quite easily while others need to maintain that level of stimulation.
Dr Ross added that, from his involvement with the police, many accidents are down to rider error and lack of skills in riding. He said:
You can't stop the culture, but you can make them more skilled.
Nationally, injuries to motorcyclists are out of proportion to their presence on the roads. Motorcyclists are just one per cent of total road traffic but account for 19 per cent of all road-user deaths.
The RAF Vehicle and Support Equipment Role Office at HQ Air Command is aiming to get as many RAF bikers as possible involved in the BikeSafe initiative, with the help of RAF station motorcycle clubs.
Flight Sergeant Dave Hughes, of RAF Road Safety, said:
Of particular note is the successful development of a working relationship with BikeSafe North Wales, who have provided top level courses for Service personnel and civilians alike.
The intention is to encourage more BikeSafe courses across the UK, allowing an increasing number of motorcyclists in the military to take part.
Isle of Man TT racer Corporal Mike Russell started motorbike riding five years ago. He said:
"> You could buy a £100,000 supercar, or a £5,000 road bike, which would be faster.
The best advice I ever had was to assume that it's the other road users [who] will do the unexpected. If you keep that in mind you ride more defensively, perhaps not as fast, but it is a lot safer.
Don't go out on the road with someone who has just passed their test as you will just end up racing each other.
Go on a bike safety day organised by your station bike club and the local police force. It's the best thing you'll ever do.
Published 13 August 2010