RAF Leuchars welcomes the Typhoon
The Typhoon is the RAF's most advanced multi-role combat aircraft and entered operational service in 2007. On Monday, 6 September, the stand…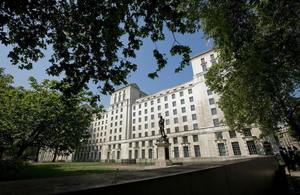 The Typhoon is the RAF's most advanced multi-role combat aircraft and entered operational service in 2007.
On Monday, 6 September, the stand up at RAF Leuchars was marked with a ceremony which involved the presentation of the squadron's standard (flag) to the Officer Commanding.
This Saturday, 11 September, the standard will be paraded for the Chief of the Air Staff, accompanied by an iconic flypast to mark the beginning of the RAF Leuchars Air Show and celebrate the reformation of the historic squadron.
Number 6 Squadron is the first of three Typhoon squadrons due to be based at RAF Leuchars.
The squadron will continue to build up and train over the next few months and will ultimately consist of approximately 200 people; many of whom are originally from Scotland.
The squadron will take over responsibility for providing the northern element of the Quick Reaction Alert force in March 2011, providing aircraft and crews on high alert to scramble and intercept unidentified aircraft approaching UK airspace.
Air Officer Scotland and Station Commander of RAF Leuchars, Air Commodore Harry Atkinson, said:
It is a privilege to welcome 6 Squadron and its Typhoons to RAF Leuchars. The world-class Typhoon is a truly multi-role combat aircraft, which will serve us for decades to come; it is capable of providing critical support to our troops on the ground as well as control of the skies, both on overseas operations and at home.

The aircraft is incredibly adaptable; however, 6 Squadron's main focus over the coming months will be preparing to deliver Quick Reaction Alert from RAF Leuchars next spring.
Wing Commander Roderick Dennis, Officer Commanding 6 Squadron, added:
6 Squadron is delighted to be at RAF Leuchars. The station and the area have a fantastic reputation across the RAF and enjoy strong links with the local community.
It is our hope that 6 Squadron will quickly become part of the Leuchars family. The squadron is particularly looking forward to the challenges and responsibilities of delivering the Quick Reaction Alert task.
Personnel find themselves joining a squadron with a history of 93 years of continuous operational service. In fact, before the disbandment in May 2007, the squadron held the honour of having been in operational service longer than any other RAF squadron.
The squadron is also unique in having two standards, one British, the other Jordanian. The latter was awarded in celebration of the squadron's links with the Kingdom of Jordan.
Published 8 September 2010