RAF Leuchars pilots train in Tay Estuary
Typhoon pilots from No 1 (Fighter) Squadron and No 6 Squadron based at RAF Leuchars took to the icy waters of the Tay Estuary to complete essential training drills testing their ability to survive in an emergency situation at sea.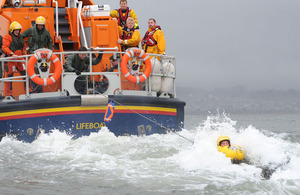 The training, which fast jet pilots must undergo every two years, was supported by a Sea King helicopter from 202 Squadron based at RAF Lossiemouth and the Royal National Lifeboat Institution (RNLI) Broughty Ferry lifeboat.
The survival training is designed to replicate an operational scenario as closely as possible. The pilots are initially pulled through the water by boat to imitate wind inflating their parachutes and dragging them through the sea.
Once they have disconnected themselves, they must retrieve their personal survival pack and practise deploying and boarding their life rafts. They then use a sea anchor to prevent their life raft from drifting on the current.
If an operational situation forces a pilot to eject, their personal survival pack stays attached to them after they separate from their ejector seat.
The pilots are equipped with personal locator beacons to alert rescue services to their position and their survival packs are designed to provide necessary equipment to keep them alive as they wait for rescue craft to reach them.
As well as a life raft and buoyancy chamber, the packs include drinking water, a first aid kit and other useful tools. The survival packs are adapted for the conditions and temperatures that the pilots are operating in at the time.
The final stage of the drills is for the 'downed' pilot to be rescued either by helicopter or by boat. This element allows for RAF winchmen and RNLI personnel to put their skills to the test in safely retrieving the pilots from the water.
The RAF Leuchars Senior Medical Officer also attended the training and was able to share his insights with the RNLI crews as to the kind of injuries that a pilot might sustain as a result of ejecting and landing in the sea.
Squadron Leader Paul O'Grady, a pilot on 6 Squadron, said of the sea drills:
As front line Typhoon pilots we are involved in a variety of different tasks from our number one priority, Quick Reaction Alert in defence of sovereign territory, to advanced training exercises, ensuring that our combat skills are kept to the highest levels required.
The majority of our flying in the UK is conducted over the North Sea where we have the use of large expanses of airspace and are able to freely manoeuvre with minimum impact on the local community and civilian airline traffic.
As an expeditionary air force, we are always ready to deploy anywhere in the world at short notice; this again is likely to involve flying routes that may have extended sea tracks, so it is critical that our post-ejection training is regularly practised to increase our chances of survival should an incident occur and we are forced to eject.
We are always extremely grateful to the RAF Search and Rescue crews and RNLI personnel that assist us with our training and help ensure that we are thoroughly prepared for all eventualities.
RAF Leuchars in Fife is primarily responsible for maintaining Quick Reaction Alert (Interceptor) North, providing crews and aircraft at high states of readiness 24-hours-a-day, 365-days-a-year, to police UK airspace and to intercept unidentified aircraft.
Published 31 October 2012