RAF Leuchars celebrates Olympic Torch Relay
RAF personnel and their families were among those lining the route of the Olympic Torch Relay earlier this week as the torch made its way past RAF Leuchars in north east Scotland.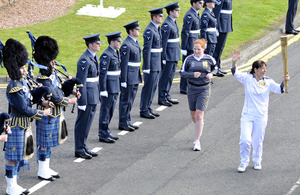 The RAF personnel from the station in Fife provided an honour guard, pipers and a flypast by four Typhoon aircraft when the Olympic Torch arrived from Guardbridge on its way to Dundee.
The honour guard formed up in front of the Station's main gate, flanking the RAF ensign, and pipers from the RAF Leuchars Pipe Band played as the Torch passed along Main Street and into the village centre.
The flypast was provided by 6 Squadron, based at Leuchars, whose primary mission is to maintain the Quick Reaction Alert vigil around the clock to protect the airspace around the northern UK.
As part of a routine training sortie in support of that mission, the aircraft provided an aerial salute as the Torch passed through Leuchars, and later flew over Dundee City Centre to mark the Torch's arrival there for its overnight stop.
Appropriately, Warrant Officer Danny Downs, aged 54, carried the torch up to the RAF Leuchars main gate.
WO Downs is retiring from the RAF after 37 years as a Physical Training Instructor and was nominated to run with the torch by his daughter, in recognition not only of his military service but for his sporting achievements in representing Scotland in diving in both the Springboard and Highboard categories.
He said:
I joined the RAF in 1975, still representing Scotland at diving.
I have had a fantastic career and also met my wife through the RAF. She was a sergeant in the then WRAF [Women's Royal Air Force]. We married in 1983. She left in 1986, after serving 12 years, to have a family, and has always been supportive throughout my career.
I am humbled and honoured to be carrying the Torch and it will be nice that I can do so in front of an RAF station.
Originally from Wishaw, WO Downs has served around the UK, and his military service has also taken him to Oman, Norway, Canada, Alaska, Australia and New Zealand. His final posting was at RAF Cosford and he is now looking forward to settling down in Carnoustie.
Air Officer Scotland and Station Commander at RAF Leuchars, Air Commodore Gavin Parker, said:
Being part of the Olympic Torch Relay is a special moment for our local community to add their own flavour to what is a globally significant event. RAF Leuchars enjoys close links with our neighbours so it is appropriate that we do our bit to mark the Olympic Torch Relay passing by our gates.
Typhoon aircraft are integral to the UK's Air Defence plans for the Olympics, so it is apt that our pilots are able to add an aerial salute here and in Dundee as the Torch Relay brings the main event another day closer.
Published 15 June 2012