RAF Leeming exercises Freedom of Northallerton
Flights from RAF Leeming celebrated links with the local community at the Freedom of Northallerton parade, presented to the North Yorkshire …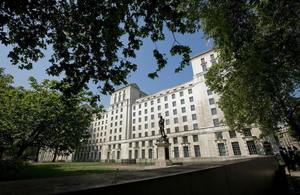 Flights from RAF Leeming celebrated links with the local community at the Freedom of Northallerton parade, presented to the North Yorkshire station in 1978 as a permanent record of its links, friendship and excellent relationships with the town of Northallerton. The parade was preceded by a service in the All Saints Parish Church.
Though the weather prevented the planned military band and flypast for the afternoon, those on parade were still moved to hear the applause that greeted them as they marched up Northallerton High Street and saluted RAF Leeming Station Commander, Group Captain Tony Innes, and Northallerton's Deputy Mayor, Councillor Jack Dobson.
Gp Capt Innes said:
The Freedom of Northallerton parade is a fantastic opportunity for station personnel to further cement the outstanding relationship and support that we receive from the townspeople of Northallerton.
Despite the wind and rain, I was extremely proud of the airmen and airwomen on parade today, and I was humbled by the support that we received from the public who braved the extreme weather conditions to acknowledge the service, dedication and commitment of the personnel from Royal Air Force Leeming.
One of the RAF Leeming airmen on parade, Sergeant Matt Fearon, said:
It was a really special occasion for me and is, without a doubt, one of the highlights of my career. I was slightly taken aback by the support we received from the people of Northallerton, and even more so in the torrential downpour.

As we conducted 'eyes left' we were greeted with cheers and applause, which was really special. I have conducted numerous parades during my ten-year career but this was the first time I actually marched through a town, and that reason made it the best.
Published 2 May 2012