RAF laser-guided bomb contract secures hundreds of UK jobs
A £60m deal announced today for extra RAF precision munitions will help sustain hundreds of UK jobs.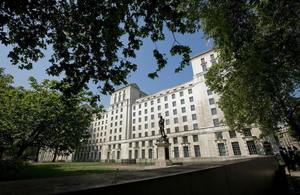 The contract is for Paveway IV, which is among the most advanced precision bombs in the world and considered the backbone of the RAF's bombing capability.
The contract has been awarded to Raytheon UK and will sustain some 450 jobs in advanced weapons manufacturing at its plants in Glenrothes, Scotland and Harlow, Essex.
A number of jobs will also be sustained at subcontractors Portsmouth Aviation Ltd, Portsmouth and Thales plant based in Basingstoke.
Paveway IV proved highly effective during the 2011 air campaign over Libya and is also currently used in Afghanistan on Tornado jets.
It is fitted with Global Positioning System (GPS) technology and laser guidance systems which mean that the precision delivery of the capability is unaffected by clouds or smoke screens, giving the UK the capability to conduct 24-hour attacks against a wide range of targets.
The weapon has a UK-developed fail-safe fuse mechanism which means that the bomb will only detonate once it has reached its intended target.
The Minister for Defence Equipment, Support and Technology, Peter Luff, said:
The Paveway IV bomb has been proven in combat in Afghanistan, where it continues to equip RAF Tornados, and in operations in support of the UN over Libya.
It is a highly sophisticated weapon and this contract will both boost the MOD's weapon stocks and support the employment of hundreds of skilled staff at plants across the UK who are working on this project.

As we progressively stabilise the Defence budget, we are increasingly able to commit to equipment projects which help to safeguard our national security.
Assistant Chief of the Air Staff, Air Vice-Marshal Baz North, said:
Paveway munitions have long been a success story for the Royal Air Force in terms of their precision bombing capability. The ability to operate in any weather means that we are able to support operations 24/7; Paveway IV weapons are a real asset to not only the Royal Air Force, but to Defence as a whole.
Paveway IV was first introduced to operations in Afghanistan in 2008 and plans are in hand to fit it to the RAF's Typhoon combat aircraft in 2013.
Published 3 April 2012