RAF Kinloss becomes Kinloss Barracks
RAF Kinloss marked the end of an era last week as the base was handed over to the Army and became Kinloss Barracks.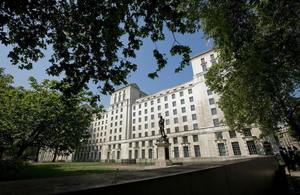 The Army's 39 Engineer Regiment officially took over the base, which has been home to the RAF since 1939.
The day was marked with a short but poignant ceremony which saw the RAF Ensign lowered at the base for the last time, and the flag of 39 Engineer Regiment was raised as a Tornado aircraft flew overhead. The Regiment's flag was raised to the sound of a specially-composed pipe tune, called 39 Regiment's Welcome to Kinloss, which was played by the RAF Kinloss Pipes and Drums.
Guests included the General Officer Commanding the Army in Scotland, Major General Nick Eeles and the Lord Lieutenant of Moray.
The Commanding Officer of 39 Engineer Regiment, Lieutenant Colonel Andy Sturrock, praised the local community for the warmth of their welcome:
The community in Moray has bent over backwards to make us feel welcome, and we are looking forward to strengthening that relationship and becoming an integral part of that community," he said.
39 Engineer Regiment is an Air Support Engineer Regiment, and part of the Corps of Royal Engineers. They specialise in the building and repair of runways, hangars and hard standings for RAF aircraft; so a former airbase is a natural home for them.
Around 720 personnel and 200 families from 39 Engineer Regiment will have fully relocated to Kinloss Barracks from Waterbeach, near Cambridge, by the end of August. The unit currently has personnel deployed in Afghanistan, Kenya and on duty at the Olympics in London.
Published 31 July 2012