RAF ISTAR squadrons keep watch over Libya
When UN Security Council Resolution 1973 was declared to establish a no-fly zone over Libya, the RAF's Intelligence, Surveillance, Target Acquisition and Reconnaissance (ISTAR) aircraft moved quickly into action in the region.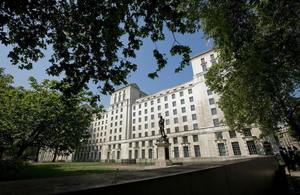 The ISTAR squadrons, which are normally based at RAF Waddington in Lincolnshire, adroitly changed tack from Operation DEFERENCE, supporting the evacuation of foreign and UK nationals, to Operation ELLAMY, supporting the enforcement of a no-fly zone in Libyan airspace.
The ISTAR 'eyes' initially comprised of No 8 Squadron's Sentry E-3D AWACS (Airborne Warning and Control System) aircraft and the 'ears' were provided by No 51 Squadron's Nimrod R1 aircraft. The Sentries had earlier played a crucial role on Op DEFERENCE as command and control platforms for the Hercules aircraft which landed on Libyan desert airstrips to rescue stranded oil workers, and so were already best placed to support Op ELLAMY.
Just before ELLAMY started, Sentry aircraft had begun an 'understanding phase' of operations in the area. Group Captain Chris Jones, Waddington's Station Commander and Commander of 907 Expeditionary Air Wing now established at RAF Akrotiri, explained:
The understanding phase is a defined mission where you have airborne capabilities maintaining position in an area and they are able to see and hear what's going on. By providing indications of activity you develop an understanding of the way a piece of airspace is being used or of the way ground forces might be employed.
Later, the Nimrod R1s, with their ability to monitor communications, were also deployed in support of the RAF's burgeoning ISTAR activity.
The Sentry's capabilities and vital utility to an air-centric operation like ELLAMY are clear; at its heart is the massive rotating Northrop Grumman radar dome that sits atop the fuselage.
This and other sensors allow the crew of eighteen to provide military commanders with real-time surveillance of Libyan airspace and of the Mediterranean Sea. And with its ability to link into a multitude of networks as a communications hub its capabilities are pivotal to the command and control of RAF and coalition combat aircraft enforcing the no-fly zone.
Within 24 hours of combat operations commencing within the no-fly zone, Waddington's latest ISTAR aircraft, the Sentinel, began to play its part. The aircraft, from No 5 (Army Cooperation) Squadron, added its sophisticated array of sensors to the ISTAR mix by surveilling ground activity in Libya.
More subtly perhaps, the Sentinel can also detect changes or differences in 'patterns of life', with the aircraft's skilled sensor operators on board the aircraft able to analyse the data and imagery to find that 'needle in a haystack'.
A Sentinel image analyst recalled one mission from last week when she was tasked to watch ground activity in a region of Libya:
You learn to discount what is normal. I knew what our target was when we started looking through that area. It just looked out of place; it shouldn't have been there. And when I looked in I was sure of what it was.
The information was passed to a Sentry aircraft where fighter-controllers on board gave the job of investigating 'what it was' to one of the fast jets policing the skies. It turned out to be a missile system, which was promptly destroyed.
Unlike the Op HERRICK counter-insurgency operations in Afghanistan, the situation in Libya is much more of an air-centric operation. For the Commanding Officer of No 5 (Air Cooperation) Squadron, Wing Commander Rich Barrow, the Sentinel's work in Libya is proving every bit as valuable as its continuing commitment to Op HERRICK. He said:
The use of ISTAR and intelligence in particular to try and understand those situations, to gain insights into what's going on on the ground is absolutely essential.
"Only with that can we go in with the confidence that we are doing the right thing and ensuring the right outcomes."
Commenting on the nature of the air missions and the personnel under his command Group Captain Jones said:
It's been change upon change, reacting to a very dynamic situation on the ground, reacting as well to international scrutiny and making sure that you get it right; allowing us to adapt and learn very quickly.

I think it is a testimony to the professionalism of all those involved in the air and on the ground in support roles that they have shown that they can do that. On every task we've produced the results, on every sortie.
Published 1 April 2011