RAF IED disposal operator honoured for work in Helmand
Chief Technician Dave Lowe is one of 19 Royal Air Force personnel who have been honoured in the latest Armed Forces Operational Honours and …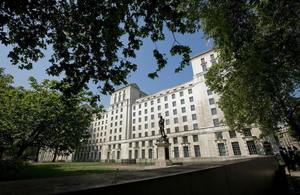 Chief Technician Dave Lowe is one of 19 Royal Air Force personnel who have been honoured in the latest Armed Forces Operational Honours and Awards and Joint Commanders' Commendations for their bravery and service.
Chief Technician Lowe deployed to Afghanistan in June 2010 for a six-month tour, working with 3rd Battalion The Parachute Regiment as a high-threat IED disposal operator in the Nad 'Ali district of Helmand province. He attended nine incidents over a ten-day period and defused fifteen pressure-plate IEDs by hand. He said:
I work with a team that includes an infantry escort. I also work with other teams that may include a search team and arms explosive search dogs.

The majority of our work is to respond to a request for assistance because a device has been found. When we clear the roads, it's hard work but very rewarding, as the waiting troops can pass to get the supplies through.
Based at RAF Wittering with 5131 (Bomb Disposal) Squadron, Chief Technician Lowe was the first non-Royal Logistic Corps individual to pass the high-threat IED disposal operator course:
There is a ladder of explosive ordnance disposal (EOD) qualifications," he said. "Historically only the Royal Logistic Corps have done the 'high threat' improvised explosive device, which is the more advanced IED work in Afghanistan.

To pass the course was amazing. It shows the other Services that the RAF has got something to offer and that we are multi-skilled specialists.

As part of our trade we are armourers and weapons technicians, so we understand explosives, building missiles and looking after bombs so it's a natural progression to become a specialist to dispose of them. The responsibility and diversity of tasks is very interesting.
Chief Technician Lowe was the busiest operator during his deployment. Given the large number of devices that he made safe he has saved many lives. Upon being notified of his award he said:
I was very surprised to get this award, it's a great honour and I'd like to thank my team and superiors - they deserve this more than I do.
I'm really pleased with what I have achieved for myself and for RAF EOD. It's great to represent the RAF and to work with the rest of the Armed Forces.

It's a real team effort and I work with so many different cap badges and organisations.

Through that professional support and faith in your own ability, you get on with it. I always have my team's safety in mind at all times and want to make sure that everyone comes back safely.
A total of 140 members of the Armed Forces have received honours and awards in the latest Operational Honours and Awards List which was published on Friday, 30 September 2011.
The list recognises service on operations in Afghanistan and national operations for the period 1 October 2010 to 31 March 2011 - see Related News.
Published 4 October 2011