RAF Hercules fleet moves to Brize Norton
RAF Lyneham's Station Commander, Group Captain John Gladston, flew the first aircraft to land at Brize Norton. He said: "This is our last…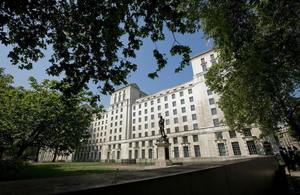 RAF Lyneham's Station Commander, Group Captain John Gladston, flew the first aircraft to land at Brize Norton. He said:
This is our last opportunity to say thank you and pay tribute to the people of Wiltshire for all the support they have given to the station over the past 70 years.

It is with a heavy heart that I bid farewell to the Hercules Force, a sentiment which I know echoes throughout the Wiltshire community.

The Hercules Force will now take a piece of our unique and proud history to RAF Brize Norton where I know they will be most welcome and I am in no doubt that it will flourish and continue to build on our proud heritage for many years to come.
On board the aircraft were the Hercules standards from 24, 30, 47 and 47 Air Despatch Squadrons, which were paraded along with the Brize Norton standards of 99, 101 and 216 Squadrons.
They were joined by the standard for 10 Squadron, whose formal reformation parade is planned for next year as it becomes the first RAF squadron to fly the new Voyager aircraft, due into service at the end of 2011.
Formally welcoming the Hercules fleet were Air Officer Commanding No 2 Group, Air Vice-Marshal Philip Osborn, and RAF Brize Norton's Station Commander, Group Captain Dom Stamp.
Group Captain Stamp said:
It is an absolute privilege to formally accept command of the Hercules fleet from Group Captain Gladston.

Having the Hercules fleet and personnel here 'under one roof' will endorse RAF Brize Norton as the hub of air transport and air-to-air refuelling and will enable us to provide a more efficient and adaptable response to whatever challenges we face in the future.
Air Vice-Marshal Osborn gave a speech to all the assembled personnel, highlighting the significance of the day's events:
Today is a truly momentous day, one which marks both the final twilight of four decades of Hercules service from Lyneham and the exciting beginning of the next chapter in the proud C-130 story.

I have no doubt that the indomitable spirit of the Hercules Force will continue in its new home, as it complements the strategic airlift and air-to-air refuelling capabilities that have characterised Brize for so long.
Published 4 July 2011