RAF Hercules engineers honoured for work in Kandahar
The small detachment of deployed engineers is responsible for the maintenance of all RAF C-130J Hercules aircraft operating in Afghanistan and…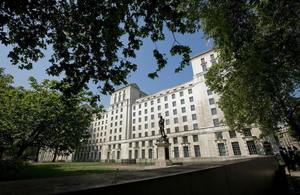 The small detachment of deployed engineers is responsible for the maintenance of all RAF C-130J Hercules aircraft operating in Afghanistan and the Middle East from 904 Expeditionary Air Wing at Kandahar Airfield.
Due to the operational tempo in June 2011, the C-130J fleet experienced a number of technical issues that potentially could have grounded the vital tactical air transport assets, seriously affecting the transport of troops and cargo, and aeromedical evacuations.
The detachment faced an engineering challenge that tested their management and technical expertise in the harsh conditions of the Afghan summer.
Commanding Officer of 904 Expeditionary Air Wing, Group Captain David Bentley, said:
The 33 (Engineering) Squadron detachment has far exceeded the capability expected of it, and has demonstrated the highest possible standards of service and commitment expected for a unit on deployed operations.
The detachment had no prospect of receiving a replacement aircraft from the UK and faced the additional complexity of the C-130J Force's move from RAF Lyneham to RAF Brize Norton, plus the unrelenting pressure of the continuous operational tempo.
The engineering team wasted no time in implementing a gruelling work regime to prevent mission failure.
The engineers worked tirelessly in the Afghan dust and heat to complete the aircraft repairs; temperatures on the flight line soared to a blistering 51 degrees Celsius but at no point did the C-130J fleet fail to complete a planned mission, ensuring critical support was provided to the coalition campaign.
Despite the challenges faced, the team also provided assistance to coalition partners with less experience on the C-130J.
Group Captain Bentley officially recognised 33 (Engineering) Squadron's efforts by awarding the team a Commanding Officer's Commendation at a small ceremony on the C-130J flight line at Kandahar Airfield. He added:
The exemplary conduct of the engineering team has elevated the standing of the RAF's C-130J Force across Afghanistan.
Published 24 August 2011