RAF helicopters help battle Israeli fire
Two Search and Rescue helicopters have been sent from RAF Akrotiri in Cyprus to help battle the massive forest fire which has spread out of control in the north of Israel.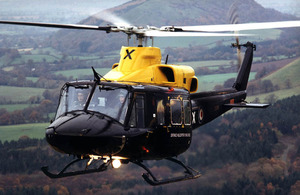 According to media reports at least 41 people have died and many people have been injured in what is thought to be Israel's largest forest fire. At least 13,000 people have been evacuated.
Aircraft and firefighting crews from across the world have arrived in Israel and are already battling the fire, including the two Griffin Search and Rescue helicopters, equipped for firefighting, from RAF Akrotiri.
The RAF already had one helicopter from RAF Akrotiri in Israel as part of a routine Search and Rescue liaison visit. A second helicopter was sent from RAF Akrotiri carrying additional specialist firefighting equipment.
These two helicopters are now in Haifa and are assisting with the international operation by, amongst other activities, dumping water from the air on the fire.
Defence Secretary Dr Liam Fox said:
I am delighted that the UK RAF Search and Rescue crews from RAF Akrotiri, Cyprus were able to support Israel in tackling this major fire.
My thoughts go out to the families of those killed and injured. The UK was at the forefront of the international effort to assist the Israelis and I commend the hard work of all those involved both from the British Forces in Cyprus and the multi national response teams.
Other countries that have sent crews to help with the fire include Russia, Egypt, Azerbaijan, Romania, Jordan and the United States.
Israeli Prime Minister Benjamin Netanyahu described the blaze as an 'unprecedented disaster' and has thanked countries for their help:
I think this symbolises an unprecedented response to our request for international help," he said.
The UK's Foreign Secretary William Hague has sent Britain's condolences to the people affected by the fire and promised that Britain would do 'whatever it can' to help the Israeli emergency teams get the fire under control. Mr Hague said:
The British Government has been saddened by the Carmel Forest fire in northern Israel which has claimed so many lives.
On behalf of the whole Government I send my condolences to those who have lost family members. Our thoughts are with the thousands who have had to leave their homes due to the blaze.
This tragedy is all the more sad as it comes as the Jewish community around the world celebrates Chanukah, a time of hope and joy.
The Prime Minister has instructed the Royal Air Force to deploy two helicopters from Cyprus, and these are now in Israel assisting with the international effort to put out the fires. The UK will continue to do whatever it can to help.
Published 3 December 2010