RAF Halton's best supporting role
In award-winning film 'The King's Speech', eagle-eyed film buffs may spot that the RAF's Halton House has a major supporting role. Report by Lorraine McBride.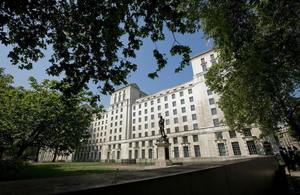 Lights, camera, action! It is not every day that the MOD can claim a hand in making Britain's most successful film for a generation. But, royal drama 'The King's Speech', starring Colin Firth, can boast just that.
The British film, which was the big winner at this year's BAFTAs - scooping seven, is hotly tipped to take the Oscars by storm on 27 February 2011. But it is a little-known fact that key movie scenes were shot at RAF Halton in Buckinghamshire.
The historic RAF estate is no stranger to movie and television stardom having previously featured in 'The Queen', 'Judge John Deed', 'Evita', 'An Ideal Husband, 'The Duchess' and 'Miss Marple'. Now, 'The King's Speech' has become a huge international hit with Colin Firth's portrayal of King George VI's lifelong battle to overcome a stammer.
Filming at RAF Halton took just two days in December 2009. And for the filmmakers, Halton House was a dream with its period features. It still has its original fireplaces, panelling, mirrors, mouldings and windows.
Location manager, Jamie Lengyel, said:
We took full advantage of the different rooms that RAF Halton has to offer.
The film sees the future King George VI (Colin Firth) rehearse his broadcast to the nation in his Buckingham Palace study.
But millions of fans will see that it is not really the palace, or a hand-built studio set, but Halton House's 'Gold Room', renowned for its ornate, corniced ceiling.
The room dates back to when Halton House was owned by the Rothschilds, where gentlemen retired to smoke after dinner.
The crew returned in January 2010 to film two scenes when the King's elder brother, David (Guy Pearce), makes his abdication speech as Edward VIII in the panelled function room, concealed behind a drab, gingham backdrop to transport it back to 1936.
The climax of the film is when King George VI conquers his lifelong stutter and, coaxed by speech therapist Lionel Logue (Geoffrey Rush), his wartime address is a triumph.
As the action cuts to David and Wallis Simpson (now the Duke and Duchess of Windsor) listening to the speech on the radio at their 'French chateau', fans won't know that Halton House's south drawing room was redecorated with white carpet to transform it into their elegant Parisian mansion.
The crew filmed against a 'green screen', adding exterior shots of the French countryside by computer wizardry later.
The crew also grabbed the opportunity to film in nearby Wendover Woods, which doubled up as the roads approaching Balmoral, when King George was chauffeured to the royal Scottish estate.
Jeannie Beha is the air base's commercial business manager and hires out Halton House to film companies. Jeannie rubs shoulders with Hollywood A-listers and said:
All the actors were genuine, polite and always said 'Good morning'.
And Colin Firth?
Colin was gorgeous, he can come back any time!
There is no doubt that Halton House comes with an impressive pedigree. Shortly after Alfred de Rothschild inherited the Halton Estate in 1879, he embarked on building Halton House, a grand country mansion influenced by 'French renaissance style'.
Completed in 1883, Halton House was mainly used as a weekend retreat, enabling the family to hunt and entertain their friends in lavish style.
When the Air Ministry purchased the Halton estate in 1919, Halton House became the Officers' Mess and remains so today.
While 'The King's Speech' has scooped all the major acting awards, there is no doubt that RAF Halton can be proud of its once-in-a-lifetime role of 'Best Supporting Location'.
'The King's Speech' is out now in cinemas now.
Published 23 February 2011