RAF Gunners welcomed home from Helmand
130 personnel from 1 Squadron RAF Regiment, based at RAF Honington in Suffolk, have been given a rousing welcome home from their six-month deployment to Afghanistan by the townspeople of Bury St Edmunds.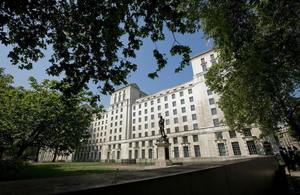 The Gunners returned home from their operational tour to Camp Bastion in Helmand province in November, but this has been the first opportunity for them to parade in their local town and for the public to show their support for the vital work that 1 Squadron RAF Regiment has done in Afghanistan.
The Mayor of St Edmundsbury, Councillor Ian Houlder, said:
The town of Bury St Edmunds enjoys a close relationship with our Armed Services and its residents have always demonstrated their support for the hard job they do by turning out in strength for happy events like this.
Friends and families of the RAF Regiment Gunners travelled from all parts of the country to attend the parade and were also welcomed at a civic reception held at The Apex in Bury St Edmunds.
Officer Commanding 1 Squadron RAF Regiment, Squadron Leader Dave Crook, said:
The men of 1 Squadron RAF Regiment are honoured to be given the privilege of parading through Bury St Edmunds, our 'home town', following our return from operations.
We have had a challenging six months in Afghanistan and have been looking forward to this day when we can show our appreciation to the local community for the support that they have given us.
Senior Aircraftman 'Leggy' Legg said:
It was an unbelievable response and so many people turned up. Just seeing everyone there clapping and cheering was so rewarding.
Senior Aircraftman Colin Hamill, accompanied by his wife Vicky and baby daughter Holly, said:
It was a great turnout. When the gates to Abbeygate opened up and we marched out we didn't expect so many people and so much appreciation. It was quite mind-blowing how loud it was, how much enthusiasm for the troops coming back. We're really grateful for the support they've shown us.
Having had a few weeks off to recover from their exertions the Gunners are now firmly back into the training regime in preparation for future operational duties. They now have a period of consolidation and training before they are next due to return to Afghanistan in 2013.
Published 17 January 2011