RAF Gunners support Afghan elections
The Gunners, from 51 Squadron Royal Air Force Regiment with additional personnel from 2622 (Highland) Squadron Royal Auxiliary Air Force Regiment…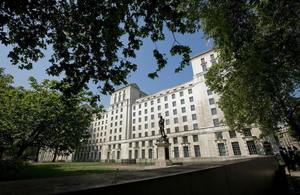 The Gunners, from 51 Squadron Royal Air Force Regiment with additional personnel from 2622 (Highland) Squadron Royal Auxiliary Air Force Regiment, are serving at Kandahar Airfield and provide a Quick Reaction Force which was ready to be called upon to assist if the Afghan National Police (ANP) encountered any attempt to disrupt voting in Daman district.
A mark of the progress that the ANP are making is the fact that the Gunners were not called on over the election period.
The Force Protection Wing is responsible for the security of Kandahar Airfield, which is the main air base for the International Security Assistance Force in southern Afghanistan.
The RAF Regiment works closely with the Afghan National Security Forces and patrols in vehicles and on foot in the villages, farmland and desert surrounding the base.
Pilot Officer Matt Talbot, visiting Mowmand, a village in Daman district, explained:
We do this to gauge the atmosphere by talking to the local people, asking about village news and showing them that we are here to help improve security.
Squadron Leader Chris Thomas, the Officer Commanding 51 Squadron RAF Regiment, attended a pre-election shura, or meeting, with Daman District Governor, Haji Seraj Ahmed, and District Police Chief Wadood to discuss security arrangements.
The elections, which took place on 18 September 2010, are the first parliamentary elections run by the Afghans since the fall of the Taliban in 2001.
Squadron Leader Thomas emphasised that:
These elections are Afghan-led and Afghan-run; our role has been to support, assist and partner the Afghan security forces who are responsible for election security.
The elections were supervised by the Afghan-staffed Independent Election Commission and security at the polling centres in Daman district was provided by the Afghan National Police.
Election day in Daman district passed quietly with no calls to deploy the RAF Regiment Quick Reaction Force.
Published 22 September 2010