RAF Gunners prepare for Afghanistan
The squadron, who are stationed at RAF Leeming in North Yorkshire, will provide force protection capabilities at the main bases in Afghanistan…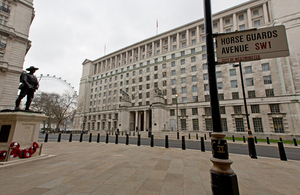 The squadron, who are stationed at RAF Leeming in North Yorkshire, will provide force protection capabilities at the main bases in Afghanistan - Camp Bastion and Kandahar Airfield - by patrolling around the air stations to ensure that air assets and personnel can operate freely.
Squadron Leader Morgan Williams, Officer Commanding 34 Squadron RAF Regiment, was the exercise director and assessed the squadron's readiness for the next part of their training:
We're running through our tactics, techniques and procedures, with the added friction of live firing, which improves the standards of marksmanship, but importantly it focuses the mind as we are conducting our live firing drills," he said.
Moreover the exercise builds up an operational trust between the troops, knowing that they are going forward, building up their confidence to conduct operations.
Sqn Ldr Williams is a former Forward Air Controller (FAC) and is pleased that since Spring 2010 there is now a FAC on each squadron within the RAF Regiment.
Sergeant Rick Forest will be doing the air-land integration role on operations. He said:
I will be controlling all air assets that we get, be it rotary, fixed wing, ISTAR [intelligence, surveillance, target acquisition and reconnaissance] or fast jets, either from Camp Bastion or the patrol base.
I will be able to see a direct feed on a computer screen from the aircraft and see what and who it can see, which is really helpful if we need to look into compounds or any hotspots. It also helps to look for improvised explosive devices [IEDs].
Lance Corporal Christopher King, commander on the Panther vehicle, returned from Afghanistan with the squadron in September 2009. He said:
The squadron's operational cycle is quite quick so the pre-deployment training helps us get into the mindset of doing the job.
In Afghanistan we'll be doing rear clearances of IEDs, observing areas, and working with the Medical Emergency Response Team.
Senior Aircraftwoman Kayleigh Richards, stationed at RAF Kinloss, is one of two female medics who will be deploying. She said:
I've been watching the guys do their drills as they go down the range, as it's interesting to know where we fit in.
I feel half-excited and half-nervous about going as we'll be patrolling with them and doing everything that they do. As a medic, if there are any casualties, I will be first on the scene treating them.
Although Otterburn Training Area has not got the same terrain as Afghanistan, Sqn Ldr Williams commented:
Otterburn represents a challenging environment and offers a big, open space where we can use the breadth of the squadron's weapons systems, vehicles and equipment.
At this stage of training the guys have done low-level drills, exercised at flight-level without live ammunition, and now face the final pressure of increasing the weight that they carry and practising under live fire, allowing them to think about fire discipline.
This week the RAF Gunners are at Catterick Training Area in North Yorkshire on Exercise Lion Shield 10, further preparing for their deployment to the front line later this year.
Published 26 August 2010