RAF Gunners join forces with US Marines in Helmand
Gunners from 51 Squadron RAF Regiment have just completed a key operation alongside the United States Marine Corps (USMC) to ensure the area around Camp Bastion in Helmand province is kept safe.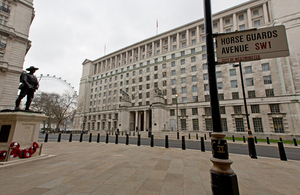 Armed with vital intelligence, the gunners used CH53 'Super Stallion' support helicopters - the USMC's heavy lift helicopter in Afghanistan - supported by Cobra attack helicopters, to set up vehicle check points at various locations on the roads within a 700-square-kilometre area surrounding Camp Bastion.
Operation CHEETAH'S RISING was coordinated by the Force Protection Wing's Tactical Air Control Party; a specialist element of the Wing responsible for integrating air support with ground forces.
While vital overwatch was provided by the Cobra attack helicopters, the Super Stallions rapidly deployed the RAF Regiment gunners, who set up the well-rehearsed Vehicle Check Points (VCPs) to stop and search suspicious vehicles operating in the area.
The CH53 Super Stallion has been used by the USMC since the Vietnam War. A reliable and robust beast, it is one of the largest helicopters used by the US military and can carry up to 24 troops. It is widely known by Marines as the 'hurricane maker' due to the huge downdraft it creates on takeoff and landing.
Flight Lieutenant Tom Stokes was the Officer Commanding the Tactical Air Control Party, and was controlling the helicopters out on the ground throughout the operation:
We have worked with numerous USMC air assets during this deployment, but not on this scale. The capabilities of the aircraft and operational experience of the aircrew enhances the effectiveness of the Force Protection Wing's operations to protect Camp Bastion.

It is always a pleasure to work with the USMC and we are looking to work with them again in the near future," said Flt Lt Stokes.
Squadron Leader Kev McMurdo, Officer Commanding 51 Squadron RAF Regiment, said:
Working with the US Marine Aircraft Wing has added another dimension to our combat operations. The insurgents have become accustomed to our vehicle and foot patrols; however, utilisation of attack and support helicopters to interdict their movements has undoubtedly sown the seeds of doubt in their minds.
The operation demonstrated the International Security Assistance Force (ISAF) capability around Bastion and acted as a deterrent to insurgents potentially operating around the Joint Operating Base. Plans for further operations are being drawn up with the USMC to help ensure the safety and security of the area.
Please tell us what you think about government news on the web by filling in the short survey at Related Links.
Published 24 July 2012