RAF Gunner helps keep Camp Bastion fed and secure
Camp Bastion is at the heart of British operations in Afghanistan - the logistics hub that keeps operations flowing - and it is RAF force protection that makes sure this vital asset remains secure.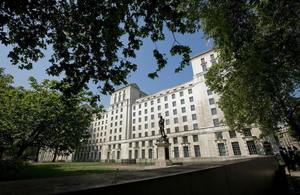 Based with No 1 Squadron RAF Regiment from RAF Honington in Suffolk, one of those charged with defending Bastion is Gunner Senior Aircraftman Ben Hayman.
The squadron's role predominantly consists of localised external patrols of Camp Bastion's fence line. They venture in and out of local villages and settlements in order to achieve a sense of security for the locals, who in turn give information on the local area.
The squadron also conducts other tasks such as providing a Fire Support Group for the logistic patrols that resupply the patrol bases and forward operating bases, and has a small sniper element which is used on helicopters.
Senior Aircraftman Hayman's main role is that of duty driver:
Not the most glorious of jobs," SAC Hayman admitted. "However it is a vital one in order to complete the chain and keep things running smoothly.
SAC Hayman's job involves supporting the various guards posted around this very large base:
The guard changes regularly in order to keep a constant watch on the ground," SAC Hayman explained. "My boss is there to make sure they are keeping an eye on everything.
Keeping so many guards supplied over such a large area is a logistical challenge as SAC Hayman explained:
As the guards are on watch we have to feed them as well. Starting at half-six in the morning, which is a ridiculous time to be up, I drive around the airfield to take breakfast which is a breakfast roll.

Lunch consists of a bag full of sausage rolls, crisps and chocolate bars. Then comes tea time. This is the worst for me. On this run I have to take boxes of cold water, make flasks, as some towers don't have kettles, then hot meals, which come in big, green, hot-lock food containers.

Then we have snack bags containing more food, like doughnuts and more chocolate. Now to me this sounds like heaven, and they eat better than the other troops on base, who eat in the cookhouses. I still get the odd guard moan the food is rubbish or it's cold.

As you can imagine, it can be annoying, but like any job you just smile and walk.
SAC Hayman has started writing a blog from Helmand which can be seen on the UK Forces Afghanistan blog site at Related Links.
Published 22 October 2010