RAF Force Protection Wing returns home from Afghanistan
In the early hours of this morning 146 personnel from No 5 RAF Force Protection Wing returned home following a six-month tour of duty protecting Camp Bastion in Helmand province, Afghanistan.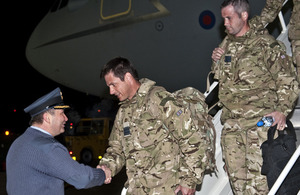 The gunners arrived back to a welcome from friends and family at a frosty RAF Lossiemouth, a stark contrast to the temperatures they had become accustomed to in Afghanistan.
Whilst in Afghanistan the Wing was responsible for an area of some 700 square kilometres and its field squadron, 51 Squadron RAF Regiment, spent over 6,000 hours on patrol.
51 Squadron also provided force protection for the Medical Emergency Response Team (MERT) which involved a team of four personnel on rotation giving all-round defence to the Chinook helicopter whilst it was collecting casualties.
Also, while undertaking these duties, the gunners received additional medical training that enabled them to assist the MERT crew with casualty treatment whilst flying back to Camp Bastion. 51 Squadron supported 183 MERT missions during their tour, saving coalition and Afghan lives.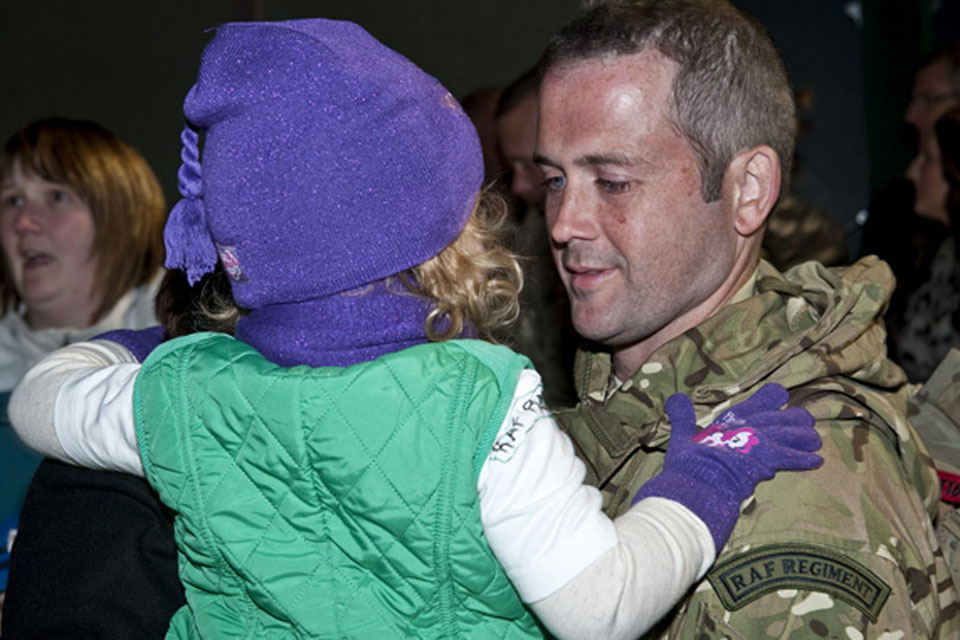 In July, 51 Squadron took part in Operation CHEETAH'S RISING, when gunners set up snap vehicle checkpoints having been deployed by United States Marine Corps helicopters.
The gunners were also pivotal in regaining control of Camp Bastion during an insurgent attack on 15 September. Co-ordinated by the Wing Headquarters, 51 Squadron gunners moved methodically across the airfield engaging in various fire fights as they dealt with pockets of resistance over a period of some four hours.
On their arrival back in the UK the gunners were met by the Station Commander of RAF Lossiemouth, Group Captain Ian Gale, who said:
It is wonderful to welcome the RAF Regiment team home to RAF Lossiemouth after a long and gruelling tour. They have time and again demonstrated their courage and professionalism in the face of the enemy and the smiles and tears tonight show how much they have been missed.
Published 2 November 2012