World news story
RAF football team play Irish Defence Forces
The Royal Air Force Ladies football team travelled to Dublin to play an Irish Defence Forces team and promote defence relations between Ireland and the UK.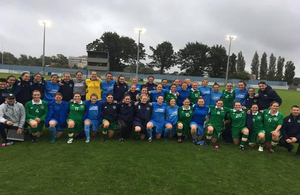 In wet and blustery conditions in late September, the Royal Air Force team started well, dominating possession and creating chances. However, a shot from the Irish side caught the RAF goalkeeper off guard to make it 1-0.
The second half brought a flurry of chances for the visitors, but the Irish Defence Forces team put away another goal to end the match 2-0. A well-disciplined match, with strong and competitive performances from both sides, it was fantastic preparation for the Royal Air Force team in their campaign to retain their Inter-Services title in March 2018.
Following the match, the Irish Defence Forces team hosted their Royal Air Force visitors to dinner where the teams exchanged gifts, and Senior Aircraftwoman Rachael Rutherford was awarded player of the match.
Published 6 October 2017