RAF father and son reunite in Kabul
A father and son, both of whom are in the Royal Air Force serving in the Middle East on operations, had an unexpected reunion at Kabul International Airport recently.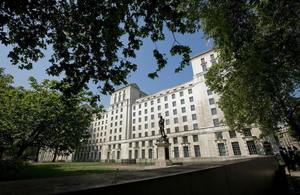 RAF Police Corporal Alastair Howden was carrying out his routine security checks on an incoming Royal Air Force flight when he found himself face-to-face with his father, Flight Sergeant John Howden, who was passing through on business.
The reunion was an emotional one as the pair hadn't seen each other since April as they both deployed on operational tours in May; Cpl Howden on Operation HERRICK in Kabul and FS Howden on Operation KIPION as part of 901 Expeditionary Air Wing.
Even back in the UK, father and son are not within easy reach of each other; FS Howden is stationed at RAF High Wycombe in the Continuous Improvement Team at Air Command, while son Cpl Howden has been serving with the Police Flight at RAF Lossiemouth.
It was a pleasure for Cpl Howden to give his father a full security screening; no family favours of course. FS Howden duly complied and passed through without incident, after which the two were able to catch up on family news.
It may be unusual for most families to have a father and son serving on operations at the same time, but not so for the Howden family who have a rich RAF history. Cpl Howden is fourth-generation RAF, on both sides of his family.
His great-grandfather, Sergeant James Strang, was an Air Gunner on Halifax bombers during the Second World War. He was shot down and killed over Cologne in June 1942 and is buried in the Canadian War Cemetery at Groesbeek in Holland.
FS Howden and Cpl Howden also made a surprise call home to wife and mother Shelley who was delighted to hear from them both.
Cpl Howden said:
It was great to meet dad out of the blue and catch up with things, but it was even better when we both called mum, she was really thrilled.
Both FS Howden and Cpl Howden are nearing the end of their tours and are looking forward to a much bigger family reunion next month.
Published 5 November 2012