RAF dogs patrol London streets
Two RAF air dogs who have served in Afghanistan have gone on patrol with the City of London Police Dog Unit so that the two forces can learn from each other's experiences.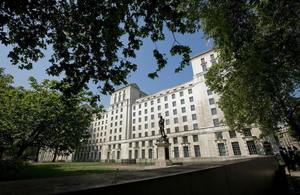 The meeting came about as the City of London Police Dog Unit continues a proud history that began 122 years ago in September 1888, when police first attempted to use dogs to aid them in the detection of crime and the apprehension of criminals.
Today, the dogs are invaluable in helping to fight crime and recover stolen property - sniffing out cash, drugs, explosives and firearms.
Taking the RAF on one of their typical patrol routes were Police Constables Jonathan Bish and Clive Wilkinson, with their police dogs Oskar, Max and Amber. PC Bish said:
Oskar is the new kid on the block. He's already making his mark, having recovered a considerable quantity of cash and drugs only last week.
Veteran Max, a seven-year-old German Shepherd, is a general purpose dog, whilst colleague Amber has a crucial role:
She's an explosives expert and will do several hundred searches in the course of a year, from buildings and cars to suspect packages," PC Bish added. "Lives depend on Amber's nose being spot on every time.
Amber rubbed noses with her opposite number in the RAF, air dog Buster, an arms and explosives search dog with five operational tours under his collar.
Flight Sergeant Arthur Sargeant, one of the team responsible for licensing military dogs as ready to deploy to war zones, said:
Buster really is something special. He's shown courage under fire in both Iraq and Afghanistan, from small arms fire to mortar attack. Each time he stayed calmly by his handler's side, and after the enemy contact was over he would continue his job; leading foot patrols, keeping the team safe as he searched for improvised explosive devices.
Accompanying Buster was air dog Duke, a vehicle search dog, and his handler Corporal Heather Lacey who talked of the special bond they have, and the morale boost working dogs provide for the troops:
In Iraq, Duke and I were together for 24-hours-a-day, with him sleeping on the bottom of my sleeping bag. He flew in C-17 aircraft and Merlin helicopters, as well as working with the Danish Army and the Household Cavalry. He is also used to travelling in the back of armoured vehicles with whatever team we are assigned to.
An assignment in the City of London was a first for the RAF, and all enjoyed the chance to share their experiences. Although they may work in very different locations, some things are the same. The RAF team explained:
For a search dog, this is just their job. For them, a search is a search, whether it is in the rain at St Paul's Cathedral or in the intense heat of Afghanistan.
PC Bish commented on the positive public response to seeing the variety of uniforms and dogs out on the street:
At the end of the day we are a nation of dog lovers, and the public feels reassured that these dogs are out there helping them.
The City of London Police introduced a permanent dog section during the 1950s consisting of a small number of German Shepherd dogs. Today the unit has ten general purpose police dogs, eight explosive search dogs, five cash, drugs and weapons recovery dogs, and three passive drugs dogs.
RAF Police dogs provide an essential force protection component to military operations worldwide. Since 1945, RAF Police dogs have been employed in the protection of airfields and military assets, the recovery of evidence, public order, the detection of drugs and anti-terrorist operations.
On an operational front, RAF Police dogs have served or are currently serving in Singapore, Aden, Hong Kong, Northern Ireland, the Falkland Islands, Bosnia, Kosovo, Gibraltar, Cyprus, Kuwait, Saudi Arabia, Iraq and Afghanistan.
Published 7 October 2010