RAF destroys military vehicle depot in Libya
The intensive air missions have continued all week under NATO's Operation UNIFIED PROTECTOR to protect Libyan civilians under threat of attack…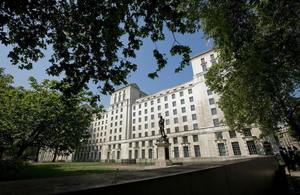 The intensive air missions have continued all week under NATO's Operation UNIFIED PROTECTOR to protect Libyan civilians under threat of attack and enforce United Nations Security Council Resolution 1973.
The vehicle depot in Tiji was struck on Wednesday, 25 May 2011, by a Tornado GR4 and a Typhoon FGR4 which between them dropped nine bombs on the facility.
In a demonstration of the flexibility of the RAF's combination of Tornado and Typhoon, the mission was originally tasked to strike eight points. A ninth was added based on information received during the mission.
The Typhoon dropped four Enhanced Paveway II bombs, the first time it has done that operationally, while the Tornado used five Paveway IV bombs, again a first for that aircraft. Both weapon types have laser and GPS guidance for accuracy.
All nine struck their intended target points on the Gaddafi-regime storage facility, and the complementary capabilities of the 1,000-pound (454kg) Enhanced Paveway II and 500-pound (227kg) Paveway IV bombs ensured that the facility was completely destroyed.
The vehicle depot at Tiji had been supporting regime attacks on the civilian population in the Jebel Nafusa region, south west of Tripoli.
These strikes take the total RAF strikes in deliberate operations in a 36-hour period to 17, all of them direct hits. At the same time, the RAF has maintained its commitment to dynamic targeting missions. In that role RAF pilots have destroyed Gaddafi-regime artillery threatening Misurata.
On Tuesday, 24 May 2011, RAF aircraft attacked four of Colonel Gaddafi's heavy armoured vehicles deployed near the Libyan city of Zlitan - all four were destroyed or badly damaged.
On the same day RAF Tornado and Typhoon jets also attacked a Libyan coastal radar station near Brega, which was destroyed with a single dual-mode seeker Brimstone missile. While the missile is designed for use against vehicles, and usually only used in that role, it was chosen as the most appropriate weapon for a precision strike.
The relatively small warhead on the Brimstone missile meant that the aircrew could destroy the radar unit without destroying the building, and also ensure the risk of death and injury was minimised.
Last Friday, 20 May 2011, two RAF aircraft struck at five multiple rocket launchers in the vicinity of Tripoli.
The Chief of the Defence Staff's Strategic Communications Officer, Major General John Lorimer, said:
By striking at these weapons RAF pilots have removed the ability of Colonel Gaddafi's forces to use them to attack Libyan civilians.
Published 26 May 2011