RAF destroys Gaddafi Scud missile launchers
Early on Tuesday morning, 30 August 2011, RAF Tornado and Typhoon aircraft used Paveway bombs to destroy a military command and control site…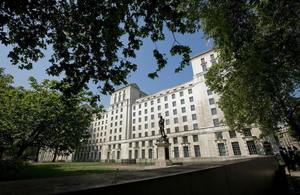 Early on Tuesday morning, 30 August 2011, RAF Tornado and Typhoon aircraft used Paveway bombs to destroy a military command and control site which NATO surveillance had successfully identified near Bani Walid.
During the afternoon, an armed reconnaissance patrol over Hun was tasked by NATO to attack a mobile radar system which had been located in the area; the vehicle was destroyed.
Further patrols continued at Bani Walid, in the course of which our aircraft spotted three heavily camouflaged Scud missile launchers deployed just to the east of the town, well within potential range of all the coastal cities from Tripoli to Misurata. Paveway guided bombs destroyed all three.
While HMS Liverpool remains on patrol off Tripoli, protecting humanitarian shipping movements into the port, HMS Ocean is undergoing a short period of planned maintenance. This has been co-ordinated with NATO and operations are not affected.
Published 31 August 2011