RAF destroys Gaddafi rocket launchers
Two Tornado GR4 aircraft struck the weapons at a location south of Sirte in a co-ordinated attack based on intelligence gathered earlier by …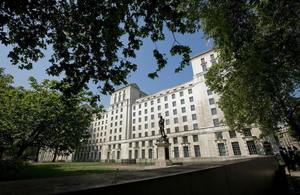 Two Tornado GR4 aircraft struck the weapons at a location south of Sirte in a co-ordinated attack based on intelligence gathered earlier by other RAF aircraft.
Video taken from one of the Tornados' Litening III targeting pods clearly shows a number of large secondary explosions after Paveway IV bombs struck the targets.
See video footage of the strike at Related Links.
A previous mission had identified and gathered images of a possible site of interest. These images were analysed by specialists from the RAF Tactical Imagery Wing who identified a large number of FROG-7 rocket launchers and several Scud missile canisters.
Once the imagery experts had identified the targets they briefed the NATO pilots operating over Libya.
An RAF flight on Friday 6 May targeted both the FROG-7 launchers and the Scud canisters using a number of Paveway IV bombs - a highly accurate weapon that uses both laser designation and GPS for guidance.
The aircrew carried out a full assessment before the attacks to ensure that collateral damage was kept to a minimum.
After the strike the Tornados assessed that 20 FROG-7 launchers and a significant number of Scud canisters were either completely or partially destroyed, ensuring that these weapons cannot now be used to attack defenceless people.
The Secretary of State for Defence, Dr Liam Fox, said:
I have no doubt that this stockpile of weapons could have been used to threaten and kill innocent Libyans.
We continue to degrade and destroy a range of military assets including tanks, armoured personnel carriers and rocket launchers that threaten the civilian population.

This hugely successful mission is an example of how we are stepping up our strikes on Gaddafi's forces that continue to attack the Libyan people. The international coalition is resolute in its UN-mandated task of protecting the civilian population.
The FROG-7 can fire rockets up to 70km and would pose a serious threat to civilians if used against an urban area. The Scud tactical ballistic missile can strike targets up to 300km away and can carry a one-tonne warhead.
Like the FROG-7, Scud is not a precision weapon but poses a serious threat because of the size of the warhead. Both weapon types are mobile and could have been moved by regime forces to threaten civilians in any Libyan city.
Around 30 to 40 Scud canisters used to transport Scud missiles were struck in this mission.
The UK is operating over Libya alongside other NATO allies and partners to disrupt and destroy the ability of Gaddafi's forces to inflict harm on the people of Libya. NATO aircraft have flown more than 5,300 sorties, nearly half of them strike sorties, since NATO assumed command of Operation UNIFIED PROTECTOR on 31 March 2011.
Also in strikes on 6 May, RAF aircraft destroyed one tank and two armoured vehicles in the area of Misurata and one mobile rocket launcher south of Tripoli.
Published 9 May 2011