News story
RAF dentist cures combat canine's toothache
Military dog Max is no longer down in the mouth after doggy dental treatment.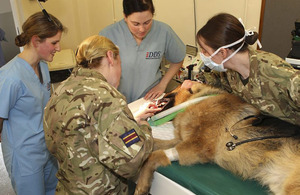 Max is a protection dog and is highly trained to provide controlled aggression in the apprehension of intruders at restricted military installations.
Anyone that knows him will tell you that even on a good day Max isn't known for his bedside manner, so when he started displaying signs of chronic toothache the plight of this very grumpy Alsatian made for a highly unusual day at the office for Flight Lieutenant Minti Elcomb.
As a dental officer Flight Lieutenant Elcomb is more used to providing dental services to RAF personnel at her home station of RAF Waddington or overseas supporting our troops on detachment, so when the call came in to perform a root canal on Max, she was naturally apprehensive.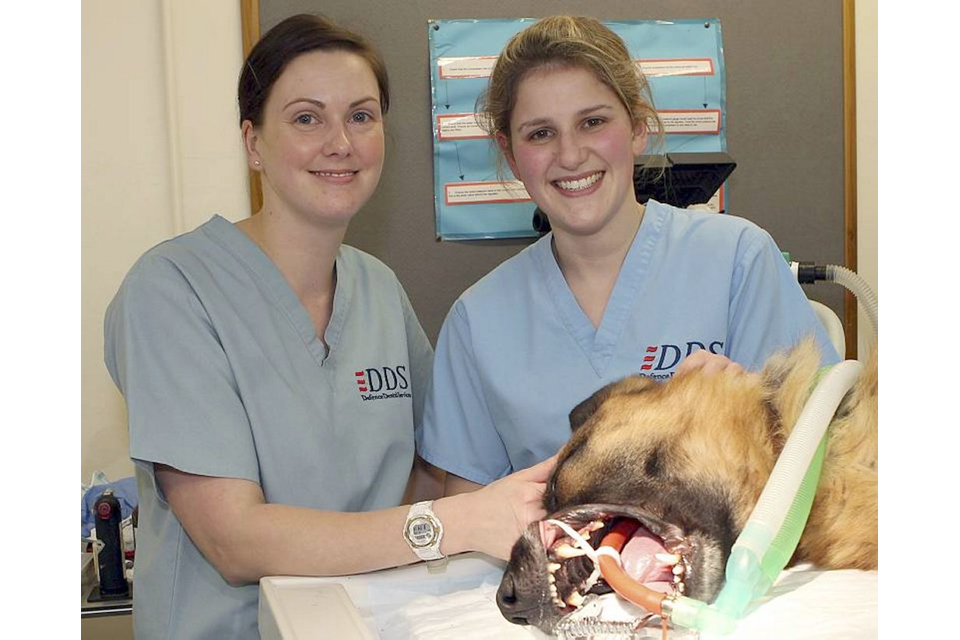 Veterinary officer Major Claire Budge, who is based at the Defence Animal Centre in Melton Mowbray, explained:
It was clear on examination of Max's teeth that he needed root canal treatment. This is a specialist procedure requiring specialist equipment so I approached Flight Lieutenant Elcomb at RAF Waddington to ask her to carry out the procedure.

Although her day-to-day work is on human teeth she had the necessary equipment and is also allowed to carry out treatment on animals at the request of a veterinary surgeon.
Flight Lieutenant Elcomb said:
It was an unusual request but I was interested in seeing how the vets work and jumped at the chance to try something new. It was not too different from doing a human root canal, just a lot quieter since the patient was asleep!
Flight Lieutenant Elcomb travelled to Max's home base, at the Defence Animal Centre in Melton Mowbray, along with dental nurse Senior Aircraftwoman Rebecca Powles to perform a root canal on one of Max's canine teeth.
Max's surgery was monitored throughout by Army veterinary staff and he's now at home recuperating, all the better for his dental intervention.
Published 3 May 2013