RAF delivers aid to Colombian flood victims
The RAF's 99 Squadron has recently flown one of its C-17 Globemaster aircraft to Colombia to deliver aid to the flood victims there.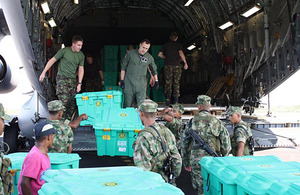 Several hundred people have lost their lives and over 400,000 homes destroyed in some of the worst flooding in Colombia's history.
The transport aircraft left RAF Brize Norton on the morning of 21 January 2011 with 400 ShelterBoxes containing tents, food and supplies for those affected by the floods.
The plane landed at Cartagena Airport in the north of the country where the aid boxes were immediately packed onto trucks by the Colombian Army for delivery to the worst affected areas in the south.
The aircraft's captain, Flight Lieutenant Ben Mountfield, said:
It is a privilege to be involved with such a vital humanitarian mission such as that unfolding in Colombia. The C-17 has a world class lift capability and to be able to put this to use improving the lives of the victims is very rewarding.
ShelterBox is an international disaster relief charity that delivers emergency shelter, warmth and dignity to people affected by disaster worldwide. ShelterBox Operations Manager, Andrew 'Alf' Evans, said:
We are delighted that the MOD have offered us this flight from RAF Brize Norton to Colombia at a time when there is still a desperate need in the country for aid.
The C-17, based at RAF Brize Norton in Oxfordshire, is the RAF's largest transport aircraft, capable of carrying 73,800kg of freight and 138 personnel over ranges of more than 8,000km.
Published 3 February 2011